The spring migration is well and truly underway as you can see from the table below which shows the first sighting for some of the commoner species this spring, and the previous two years for comparison.
| | | | | |
| --- | --- | --- | --- | --- |
| Species | 2002 | Location | 2001 | 2000 |
| Blackcap* | 8th March | Irby | 12th March | 31st March |
| ChiffChaff* | 15th March | Neston | 11th March | 13th March |
| Wheatear | 16th March | Hilbre | 22nd March | 12th March |
| White Wagtail | 16th March | Hilbre | 24th March | 17th March |
| Sand Martin | 18th March | Inner Marsh F. | 15th March | 16th March |
| Swallow | 27th March | Hilbre | 28th March | 2nd April |
| Willow Warbler | 29th March | Hoylake | 8th March | 27th March |
| House Martin | | | 16th April | 23rd March |
| Whitethroat | | | 27th April | 25th April |
| Swift | | | 21st April | 27th April |
* As small numbers of both Chiffchaff and Blackcap over winter in the area this is the date they were first heard singing. Locations above for 2002.
By far the most numerous of the migrants so far have been Chiffchaff and Wheatear with over 30 of the former along the Wirral Way by Thurstaston and the same number of the latter on Hilbre, both over Easter. A very early Whinchat was reported on 13th March by Leasowe embankment, if confirmed this will be the earliest ever sighting for Wirral/ Cheshire.
We have had some really superb birdwatching at Parkgate during the high spring tides at the beginning and end of March. Including the last day of February a total of well over one thousand birdwatchers turned up for the six organised birdwatches. Every day saw the tide coming very close, or right up to the wall. This meant some great close up views of Short-eared Owls looking glorious in the spring sunshine.
But the highlight for me was on the 2nd of March - we were all gathered in the car park prior to the guided walk when suddenly a Merlin passed right over head closely pursued by a Peregrine. Next minute the Peregrine turned around and drifted over the car park. It then proceeded to hover in the wind for 2 minutes just 20 feet overhead having a good look at us all before slowly flying off over the marsh. For many, including myself, it was their best ever view of a Peregrine - fabulous! But it wasn't just Peregrines and Owls, other highlights included 4 Water Rail, 13 Little Egret, 30 Brambling and 12 Jack Snipe.
However, all this was tinged with some sadness as this was Jeff Clarke's last stint as Ranger at the Parkgate birdwatches after fifteen years. Many of you will know Jeff and not many will know a more knowledgeable and enthusiastic birder. But Jeff's greatest strength is to be able to convey that knowledge and enthusiasm to the public - his impersonation of a Moorhen defending its territory or a feeding Little Egret is something to behold! Jeff is moving on to Halton as Conservation and Education Officer - I'm sure we all wish him the best of luck.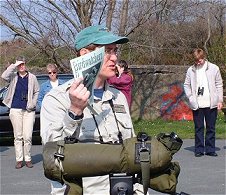 Jeff in full flow at a Parkgate high tide birdwatch.
Other highlights include 23 Brent Geese and 13 Purple Sandpiper on Hilbre, 9 Spotted Redshank at Inner Marsh Farm and 75 Twite at Flint.
What to expect in April: The spring migration will turn from a trickle to a flood. Large falls of warblers and other migrants occur from time to time, keep an eye out along the north Wirral coast and Point of Ayr early in the morning. Of course Hilbre Island is also an excellent spot to see the migration, expect several hundred Meadow Pipits a day when the passage reaches its peak as well as plenty of hirundines and warblers.
But the migration isn't just confined to land based birds, a strong west or north west wind will blow many sea birds close inshore - Gannets, Guillemots, Fulmars, Kittiwakes and several species of terns on their way north. Best view points are Point of Ayr, Hilbre and the north Wirral coast. Terns will be returning to their breeding colonies during the month, Common Terns at Shotton and Little Terns at Gronant.
Large flocks of waders - Knot, Dunlin, Sanderling - will be passing through from their wintering grounds in Africa to the Arctic. I find it particularly awe inspiring this time of year watching these flocks knowing just how far they are traveling. How welcome, and vitally important, the Dee Estuary must be as a feeding station, many birds probably flying here in one go from North Africa.
Many thanks go to Christopher Wilding, Ken Mcniffe, Dave Harrington, Dave Wilde, Gareth Stamp, John Roberts, Julian Weldrick, Cathy McGrath, Stephen Williams, Ian Emmitt, Christina Batey, Alan Chapman, Keith Lester, Andy Scholfield, Gareth Williams, Eric Burrows, Colin Jones, Alan Jupp, Dorothy Jebb, Mike Hart, John Campbell, Chris Williams, Mark Feltham, David Hinde, Brian Grey, Jeff Clarke, Chris Butterworth, Jonathon Morton, Gill Jakeman, Fil Moore, Colin Macleod, John Ferguson, Bill Owens, David Esther, Martyn Jaimeson, Carl Clee, Jane Turner and the Dee Estuary Voluntary Wardens for their sightings during March. I rely on the goodwill of people like this, unlike some commercial sites I cannot offer financial inducements!