Back to Newsletter
Systematic list -
Red-throated Diver to Grey Phalarope see February 2002 Newsletter.
Pomarine Skua to Kittiwake (below).
Sandwich Tern to Turtle Dove.
Cuckoo to Rock Pipit.
Yellow Wagtail to Blackbird.
Fieldfare to Willow Warbler.
Goldcrest to Carrion Crow .
Starling to Corn Bunting .
The status line included for each species is adapted from the Cheshire and Wirral Ornithological Society's bird report. T
*[The data are distorted by observer activity, greatest in April, May, September and October and patchy November to February and by frequency of recording observations; i.e all Whimbrel are logged but only occasional counts of Curlew were made historically]
County-wide maxima

Rare 1-5
Very scarce 6-10
Scarce 11-100
Uncommon 101-500
Fairly Uncommon 501-1000
Common 1001-5000
Very common 5001-25000
Abundant >25000
Pomarine Skua Stercorcarius pomarinus
Very scarce autumn visitor to Wirral north shore where rare and irregular in summer.
In 2000, presumably the same sub-adult was recorded on five dates between Jun 23rd and Sept 9th. An adult female gorged itself on a Guillemot corpse on the high tide mark right in front of the house on Oct 10th but the most remarkable record of the year came on Dec 14th, when an immature flew directly over the house and out to sea.
A dark morph sub-adult on Sept 15th and a first winter on Nov 6th were the only records of 2001.
Arctic Skua Stercorcarius parasiticus
Scarce summer and autumn visitor.
Rare in spring In 2000, recorded regularly between Jun 6th and Oct 10th, though on most days the counts were below five. 28 on Sept 6th and 20 on Sept 9th were the largest day totals, though there were still nine about on Oct 10th.
In 2001 birds were recorded regularly between Aug 26th and Sept 15th, with 37 on Sept 7th the highest count by some margin. In addition there were singles on June 21st, Nov 4thand Nov 6th. In the early part of both years most of the records were of dark phase non-breeding adults.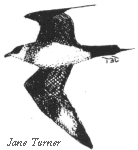 Long-tailed Skua Stercorcarius longicaudatus
Rare coastal migrant.
A rather dark immature flew west close inshore at low tide on Sept 6th 2000. It was last seen heading up the Dee Estuary, nearly cutting the corner of the Wirral at Red Rocks. We have often seen Leach's Petrels take this line, having followed the gutter inside the East Hoyle sandbank and then found themselves a huge distance from the open sea.
In 2001 classic white-headed juveniles were recorded on Sept 7th and Sept 15th. It is possible that two were present on the former date.
Great Skua Stercorcarius skua
Very scarce autumn migrant and irregular winter visitor.
In 2000 five on Sept 9th, three on both Oct 2nd and Oct 10th and a single on Oct 24th were typical for this part of the coast.
In 2001 there was single on Apr 7th 2001, then a series of records between Sept 1st and Sept 21st. Ten on Sept 15th and 12 the following day were the largest counts. One bird favoured feeding on tideline corpses, right underneath the promenade. It frequently caused mayhem in the gull roosts!
Mediterranean Gull Larus melanocephalus
Very scarce visitor throughout the year.
After a first summer on Jul 28th, one or two were recorded regularly between Aug 6th and Sep 18th with at least three birds involved. On Aug 23rd, an adult was anting over the back garden. Surprisingly there were no records in 2001.
Little Gull Larus minutus
Scarce coastal migrant.
Fifteen on Apr 7th 2001, seven on Apr 15th 2001 and a single the following day were the only record so far. Record numbers of this species were present in the Mersey mouth in April 2001.
Sabine's Gull Larus sabini
Vagrant.
| | |
| --- | --- |
| All records from 2001. An adult was feeding off the wreck on Sept 3rd. Another adult came close in over the sand on Sept 7th with a juv west at sea later the same day. A further juv was recorded on Sept 15th. | |
Black-headed Gull Larus ridibundus
Abundant winter visitor and migrant.
Up to 200 present throughout. The first juveniles of the year were present on Jul 1st. 1100 on Aug 31st, 1200 on Dec 28th were larger counts. There was a huge influx on Jan 13th 2001, when 5600 were estimated, increasing to 6000 the following day.
Common Gull Larus canus
Common widespread migrant, winter visitor and non-breeding summer visitor.
Present throughout, though mostly in small numbers. Numbers increase markedly in late summer, with 200 on Aug 29th, 250 on Aug 30th and 1200 on Aug 31st 2000 being typical. 900 on Dec 28th and 1200 on Jan 13th 2001 were the highest counts otherwise.
Lesser Black-backed Gull Larus fuscus
Common widespread migrant, winter visitor and non-breeding summer visitor.
Present throughout. 250 on Aug 31st 2000 then 150 on Jan 14th, 400 on Mar 28th 100 on Aug 22nd, and 200 on Dec 30th 2001 were the only three figure counts.
A dark-backed bird, either L.f.intermedius or L.f.fuscus was present on Jul 1st 2000.
Herring Gull Larus argentatus
Very common non-breeding resident and winter visitor.
Up to 200 present throughout. Noticeable influxes occurred in March 2001, when up to 3000 were recorded and Dec 2001 when the peak was 2500 on Dec 30th. Birds showing classic characteristics of the Scandinavian race L.a.argentatus were present on Nov 5th and Dec 30th 2001.
Original sketch
On Oct 21st 2001 a bird showing characteristics of the North American race was present on the beach. The record has been submitted to the BBRC
Yellow-legged Gull Larus (argentatus) michahellis
Scarce visitor in summer and early autumn, otherwise rare.
One or two recorded on seven dates between Jul 31st and Sept 18th 2000 and three dates between Aug 23rd and Oct 28th 2001.
An extremely large sleek bird was present on Nov 5th 2001. We are currently exploring the possibility that this was of the Atlantic island race L.(a).michahellis atlantis
Great Black-backed Gull Larus marinus
Uncommon resident and winter visitor.
Recorded in all months, though rarely more than 30 present. 60 on Aug 31st 2000 and 22nd August 2001 and 250 at the end of Dec 2001 were the largest counts
Kittiwake Rissa Tridactyla
Uncommon Coastal migrant and winter visitor.
Recorded throughout in suitable conditions i.e. strong Westerly winds.
Monthly maxima
2000:
| | | | | | | | | | | | |
| --- | --- | --- | --- | --- | --- | --- | --- | --- | --- | --- | --- |
| Jan | Feb | Mar | Apr | May | Jun | Jul | Aug | Sep | Oct | Nov | Dec |
| - | - | - | - | 35 | 120 | 145 | 10 | 40 | 65 | 975 | 1 |
2001:
| | | | | | | | | | | | |
| --- | --- | --- | --- | --- | --- | --- | --- | --- | --- | --- | --- |
| Jan | Feb | Mar | Apr | May | Jun | Jul | Aug | Sep | Oct | Nov | Dec |
| 20 | 0 | 6 | 14 | 250 | 0 | 0 | 1 | 188 | 10 | 125 | 25 |
The Nov 2000 recorded in a westerly passage on Nov 1st maximum smashed the existing Red Rocks record.