The most unusual, and unexpected birds of the month must be the Stone Curlew at Gronant and two Short-eared Owls flying over West Kirby. The Stone Curlew was a good record, normally only one or two are seen a year in the whole of the North Wales/ North-west England region. Although never usually seen on the estuary between May and September we can get several thousand pairs of Short-eared Owls breeding in this country in good vole years, so may be we shouldn't be too surprised when the odd one or two turn up here, even in June.
Both our tern colonies are doing well. A count of 555 Common Tern nests at Shotton was yet another record. Although quite high mortality of chicks occurred in late May/ early June due to bad weather the Merseyside ringing group told me they are confident that the terns will relay and expect at least 700 chicks to fledge. The Little Tern colony at Gronant, the only one in Wales, is also doing well with over 50 nests. We have had better luck this year controlling fox predation and seen little of the Kestrel - so we are hoping for a good number of fledglings.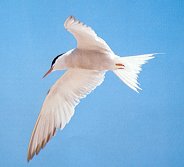 V.McFarland
Like May, June was an excellent month for sea birds - particularly Gannets, but also Manx Shearwaters, Fulmars, Common Scoters and Guillemots. 4 Little Egrets at Burton was a high number for June, yet another indication of their increase. The pick of the birds at Inner Marsh Farm included a Spoonbill, Wood Sandpiper and Mediterranean Gull.
What to expect in July: It might only be mid summer (around here we are still waiting for our summer to start!) but for many species of birds the summer breeding season is over. This means a rapid build up of birds on the estuary during the month. Thousands of gulls and terns use the sand banks as a post breeding resting place making it an ideal time to brush up on gull ageing and racial identification, something I know you all love to do! But even if you are not into the intricacies of gull plumage get down to Gronant, Point of Ayr, West Kirby or Hoylake about two hours before high tide to enjoy the spectacle. Among those thousands may be the odd rarity such as Black Tern, Roseate Tern or Mediterranean Gull - all seen in July in previous years.
Waders also increase spectacularly in July with returning Redshank, Oystercatcher and Curlew in their thousands. Less common waders too - such as Green and Common Sandpipers, Spotted Redshank, Sanderling and Whimbrel on passage. Greenshank numbers at Parkgate Boathouse Flash start to build up prior to their maximum in late August/ early September - last July we had 29. The 'Flash' must now be one of the best places in the country to see Greenshank.
All in all July tends to be an underrated month birdwise, I hope the above will prompt you to get out and not miss out on some truly excellent birdwatching.
Many thanks go to John Billington, Colin Wells, Mark Griffith, Keith Lester, Gareth Stamp, Hefin Jones, Mike Hart, Nigel Troup, Stephen Williams, Dorothy Jebb, Mike Hart, Steve Williams, Chris Butterworth, David Esther, Martyn Jaimeson and Jane Turner for their sightings during May. All sightings are gratefully received.