The spring migration was still in full swing at the beginning of the month with the highlight being 20 Yellow Wagtail, 70 White Wagtail and 47 Wheatear all in the Shotwick/Shotton rifle Range area. 5 Grasshopper Warblers was an excellent record for Hoylake Langfields.
The two Avocets which turned up at Inner Marsh Farm last month stayed until the 9th. May be they have gone on to the marshes at the head of the estuary to breed, hiding in one of the many creeks, or they could be immature birds and moved on. One of two pairs at Leighton Moss have had chicks again so may be we will be lucky next year.
| | |
| --- | --- |
| We had an exciting four days at Inner Marsh Farm in the middle of the month with 2 Spoonbills, a Temminck's Stint, Great White Egret, Hen Harrier and a Gull-billed Tern all turning up in a four day period. That's in addition to the early summer flock of 450 Black-tailed Godwits, probably the largest in the country. | |
Strong south west/west winds towards the end of the month meant sea watching was very much a fruitful activity. There must have been several hundred Gannets in Liverpool Bay for several days as well as many Manx Shearwaters, Kittiwakes etc.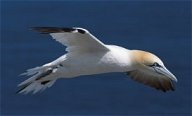 Nigel Blake
The nearest large Gannetry is on the island of Grassholm in south Wales, well over one hundred miles away but as they are known to travel up to four hundred miles from their breeding sites (1) then it is not all that surprising to see them here. But many will be immature birds, Gannets don't breed until their fifth year. A bird which doesn't stray far from their breeding grounds is the Puffin so it is quite a rarity off the estuary and single birds seen on two separate days was a good record - the nearest colony is Anglesey fifty miles away.
The Hilbre Bird Observatory have just brought out a Checklist of the Birds of Hilbre.
Sadly I have just heard of the death of Eric Hardy, aged 90. He has been a leading naturalist on Merseyside since before the Second World War. He started writing his weekly nature article for the Liverpool Daily Post in 1930 inspiring many generations of budding naturalists. He founded the Merseyside Naturalists' Association and wrote many publications including The Birds of the Liverpool Area (1941) and Bird-Watching on Cheshire (1988) - both books are truly in depth guides to both the birds and sites of these areas, making some modern guides looking very light weight!
What to expect in June: Undoubtedly the quietest time of the year on the estuary but even now we can get surprising numbers of waders at times - failed breeders or immature birds. There are always plenty of immature Oystercatchers around which don't breed until their fourth year, but last summer an unprecedented 10,000 Knot frequented the mouth of the estuary during the summer months. These were in non-breeding plumage so must have been one year old birds.
Like the end of May any west winds should give good views of Gannets, Manx Shearwaters and other sea birds. Both Common and Little Terns breed locally - one of the best places to see Common Terns is off Greenfield Dock at low tide where they concentrate to feed. A visit to Gronant to see the Little Terns is always rewarding - I love going to Gronant. Despite being only a few hundred metres from a huge caravan park the beach and dunes appear so wild and isolated, it always reminds me of some forgotten Hebridean Island.
Many thanks go to John Kirkland, Harry Davies, Ian Mara, Iain Douglas, John Billingoton, Mark Smith, Jean 'the dog walker', Cathy McGrath, Stephen Williams, Alan Chapman, Dorothy Jebb, Mike Hart, John Campbell, Steve Williams, Mark Feltham, Chris Butterworth, David Esther, Martyn Jaimeson and Jane Turner for their sightings during May. All sightings are gratefully received.
1. Handbook of the Birds of the Western Paleartic, 1983.