The spring migration continued throughout the month, a steady flow rather than anything spectacular. April 22nd was a typical day with plenty coming through - Grasshopper Warblers, Ring Ouzels, Wheatears, Yellow Wagtails - but the pick of the bunch was undoubtedly the first Dartford Warbler for Hilbre Island found by Steve Williams.. The first Sandwich Tern was seen off Hoylake on the 4th, Common Terns from Hilbre Island on the 13th where the first Little Terns were seen on the 17th. Four Little Terns were back at Gronant on the 25th. The Black Redstart which spent two days at Stanley Road Hoylake at the end of March stayed until 1115am on the 1st before disappearing, literally seconds before Steve Round came down to photograph it!

| | | | | |
| --- | --- | --- | --- | --- |
| Species | 2005 | Location | 2004 | 2003 |
| Wheatear | 16th March | Caldy | 17th March | 9th March |
| White Wagtail | 17th March | West Kirby | 14th March | 6th March |
| Sand Martin | 17th March | Hilbre | 18th March | 8th March |
| Willow Warbler | 25th March | Hilbre | 31st March | 24th March |
| Swallow | 25th March | Hoylake | 18th March | 12th March |
| House Martin | 2nd April | Thurstaston | 28th March | 15th March |
| Swift | 17th April | Willaston | 20th April | 24th April |
| Whitethroat | 18th April | Leasowe | 15th April | 17th April |
| Cuckoo | 1st May | Point of Ayr | 3rd May | 4th May |
There were quite a few Short-eared Owls around with this one below hanging about near Thurstaston Visitor Centre most of the month, it has a few feathers missing from each wing. It was another good winter for Short-eared Owls although it is probable that the ones here now are passing through from elsewhere - further south, presumably.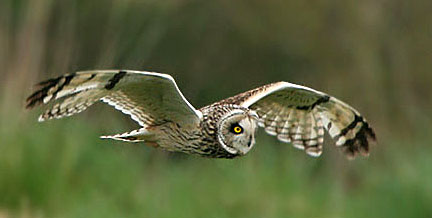 Steve Round © Short-eared Owl at Thurstaston, 21st April 2005.
Whimbrel came through steadily all month with most of them seen from Hilbre Island, 12 were there on the 29th. Very good numbers of Black-tailed Godwit were at the head of the estuary with 1,600 at Inner Marsh Farm and 2,532 at Oakenholt. Eight Spotted Redshank was the highest number reported to me, these at Inner Marsh Farm. Numbers of Turnstones on Hilbre Island noticeably dipped mid-month as they migrated north, but picked up again at the end of the month to 120 or so, presumably these were birds passing through from further south.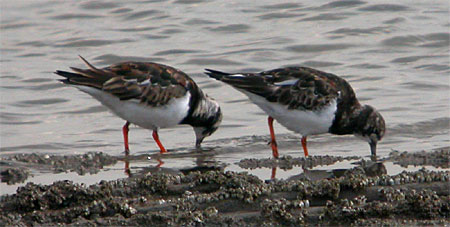 Richard Smith © Turnstones at Hilbre turning in to summer plumage, 19th April 2005.
One to two Avocet were hanging around Burton Marsh and Inner Marsh Farm for several days but no sign of any staying to breed. Three Ospreys and three Marsh Harriers passed through. On a very clear day Chris Butterworth was lucky enough to spot a Red Kite circling over Garth Wood on the Welsh side of the estuary, he was standing on West Kirby Shore at the time!
A Lapland Bunting was well spotted flying over Hilbre but what was thought to be an Iceland Gull on the shore by Leasowe Lighthouse turned out to be a leucistic Herring Gull (leucistic means when a bird's colour is very pale, rather than pure white like an albino). Not as exciting as an Iceland Gull but very unusual, nevertheless.
What to expect in May
With the departure of our over wintering waders and duck the estuary can seem very empty in May, apart from the odd flock of waders hurrying through on their way north. Despite this there are probably more species present in and around the estuary in May than any other month. We have all the spring migrants present including the late arriving Spotted Flycatcher and Cuckoo. As already mentioned waders are passing through, and this can include rarities such as Pectoral Sandpiper and Temminck's Stint. The Black-tailed Godwits which winter on the Dee Estuary breed in Iceland but up to 1,000 immature birds spend the summer here. We can also get rarities turning up as 'overshoots', migrants, usually inexperienced young birds, which have overshot their normal breeding areas and flown further north or west than intended.
Breeding in our tern colonies will get fully under way with much shrieking and tooing and froing! The Common Tern colony at Shotton is the largest in Wales (and probably the second largest in the UK) and pairs have increased for the past five years running, last year 656. The Little Terns at Gronant have also done very well over the past two years, with 89 pairs fledging 167 chicks last year.
We can get good numbers of seabirds out to sea given a fresh west wind, including four species of terns, Manx Shearwaters, Gannets and Common Scoters.
Many thanks go to Clive Ashton, Iain Douglas, Roy Palmer, Colin Jones, Dave and Emma Kenyon, Ray Roberts, Charles Farnell, Steve Williams, Chris Butterworth, Jane Turner, Phil Woollen, Allan Conlin, Mike Hart, John Kirkland, Alan Chapman, Mike cocking, Brian Roberts, John Roberts, Steve Round, Colin Wells, Tanny Robinson, Steve Roberts, Frank Huband, Mal Smerdon, Matt Thomas, Mark Feltham, David Small, Mark Wilde, R. Davey, Mark O'Sullivan, Steven Liston, Peta Sams, Andrew Ingham, Steve Renshaw, Dave Burt, John Boswell, Alan and Sandy Evans, Jeff Stephens, Jean Morgan, Sabena Blackbird, Leon Castell, Rob Bithell, Howard Jones, the Dee Estuary Voluntary Wardens and the Hilbre Bird Observatory for their sightings during February. All sightings are gratefully received.