Count from Heswall Shore - (Kindly provided by the Wirral Ranger Service), 22nd August.
38 Great Crested Grebe, 136 Cormorant, 1 Little Egret, 8 Grey Heron, 3 Mute Swan, 1,441 Shelduck, 4 Teal, 20 Mallard, 3,200 Oystercatcher, 14 Ringed Plover, 18 Knot, 3,580 Curlew, 7,072 Redshank, 1 Greenshank, 6,500 Gulls mostly Black-headed also 1 Marsh Harrier, 3 Peregrine and 6 Kestrel.

Count from Point of Ayr - (kindly provided by Sam Dyer), 5th August.
2 Cormorant, 116 Mallard, 45 Shelduck, 610 Curlew, 200 Dunlin, 2,250 Oystercatcher, 5 Bar-tailed Godwit, 116 Redshank, 26 Ringed Plover, 3 Snipe, 2 Whimbrel, 6 Greenshank, 1 Green Sandpiper, 7 Sandwich Tern, 10 Common Tern, 20 Common Gull and 1 Common Buzzard.
An interesting month! Lets start at the end of the month when a strong north-westerly blew for about 24 hours or so bringing in 12 Leach's Petrels, 4 Storm Petrels, 3 Great Skuas, at least one Pomarine Skua, 1 Long-tailed Skua and 1 Grey Phalarope. Most of these were seen off Hilbre, the Leach's count is the highest August count for 10 years. Even more skuas had been seen a few days earlier on the 25th when 25 Arctics and 5 Greats were off Hoylake.

Not a particularly good month for passage waders as the heavy rain meant water levels were too high at their favourite sites - Inner Marsh Farm and Parkgate Boathouse Flash. Even so we had 5 to 6 Green Sandpiper at IMF and 46 Greenshank at Parkgate. There were plenty of waders at Heswall with 7,072 Redshank and 3,580 Curlew - it wouldn't surprise me if the Redshank count for the whole estuary ends up being the highest in the country, and could be a record count for the Dee Estuary. Curlew Sandpipers and Little Stints started to come through with 12 of the former at Heswall and two of the latter at Hoylake. I had an unofficial Wetland Bird Survey Count given to me of 3,500 Black-tailed Godwit (estimate at some distance), so a couple of days later I went down to Flint Point where I discovered 3,380 of them roosting at low tide. A remarkable count for August and again probably the highest in the country. To put this in perspective the last three August counts for this species have been 973 (2001), 738 (2002) and 1,043 (2003).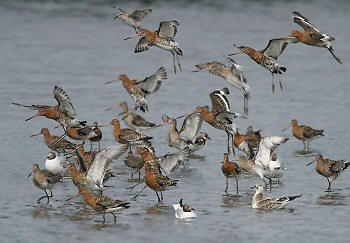 Steve Round ©
Black-tailed Godwits at Inner Marsh Farm, July 2004.
Plenty of terns around all month with max. counts of 1,200 Sandwich Terns, 500 Common Tern and 300 Little Terns, all off Hilbre Island. On Hilbre Island there were a couple of excellent days for visible migration with max counts of 250 Willow Warblers and 1,050 Swallows as well as 3 Spotted Flycatchers and 2 Pied Flycatchers.
Little Egrets continue to increase with a record count of 47 coming in to roost. They are remarkably difficult to see out on the marsh during the day with the grass being so long at the moment. Easier to see were a Hen Harrier and up to two Marsh Harriers. Other birds of note were a Red Kite near Connah's Quay and four Garganey at Inner Marsh Farm.
What to expect in September.
A North-westerly gale in the middle of the month would do very nicely. This will blow good numbers of Leach's Petrels in to the mouth of the river Mersey and along the north Wirral Shore. It was 2001 when we last had a good passage so we are about due another one and the north Wirral, Hilbre Island and Point of Ayr are the best places to see this species in the whole country. A gale will also bring in large numbers of other sea birds, rare and common, all making their way south. Expect hundreds of Gannets, Kittiwakes and Fulmars along with the rarer Sabine's Gull and all four species of Skua.
Waders will arrive here in large numbers this month. Redshank usually peak at 8,000 to 12,000 birds, probably the highest count for this species in the country. To see this spectacular sight get down to Heswall Shore at least two hours before high tide. There should also be a good sprinkling of rarer waders with Curlew Sandpipers, Little Stints, Spotted Redshanks and Greenshank all passing through.
Duck counts will increase rapidly after their summer moult, in particular Shelduck, Teal and Pintail. Shelduck are best seen off Thurstaston and Heswall, Teal at Inner Marsh Farm and Pintail off Flint. Look for Common Buzzards 'kettling' which they tend to do this time of year. This is when they gather together in large family parties, may be as many as 10 or more, and soar high overhead - an amazing sight. A few Ospreys and Marsh Harriers should be seen heading south and both Hen Harriers and Short-eared Owls will start to come in for the winter.
Many thanks go to Ray Roberts, Kevin Smith, Jane Turner, Fred Heywood, Nigel Troup, John Cambell, David Esther, 'Welsh Weasels', Mark Turner, Mike Hart, Dave and Emma Kenyon, Bernard Machin, David Harrington, Stephen Williams, Chris Butterworth, Martyn Jaimeson, John Roberts, Mark O'Sullivan, Phil Woollen, John Kirkland, Colin Wells, David Wilde, Tanny Robinson, Allan Conlin, Colin Schofield, Karen Leeming, Sam Dyer, Steve Ainsworth, the Wardens at Gronant and the Hilbre Bird Observatory for their sightings during August. All sightings are gratefully received.