Species Spotlight - Black-tailed Godwit
Limosa limosa
Richard Smith
Black-tailed Godwits are remarkably confiding birds, often busily feeding only a few feet away from people walking along the beach. When they are disturbed, perhaps by a passing Peregrine, they form a tight wheeling flock often flying quite high; each bird looking like a small cross in the sky with legs sticking out one end and the long bill at the other end. They have become a common sight on the Dee Estuary in recent years, with birds present throughout the year.


A typical winter's scene on Thurstaston Shore, two of the Black-tailed Godwits are ringed
but only one leg of each can be seen. © Richard Smith.
Two races of Black-tailed Godwits occur in Great Britain, the nominate race, L l limosa, and L l islandica. Although it is probable we get one or two limosa around the Dee Estuary the large majority are of the islandica race which breed in Iceland. A large proportion of these winter in the British Isles but some move further south, mostly just as far as northern France but others go to Spain, Portugal and Morocco. Pleasingly, these Icelandic birds have increased significantly over the past 20 years with the wintering population in Great Britain going up five fold. They seem to particularly like the Dee Estuary where, in those same 20 years, max counts have increased by at least 10 fold (see graph below).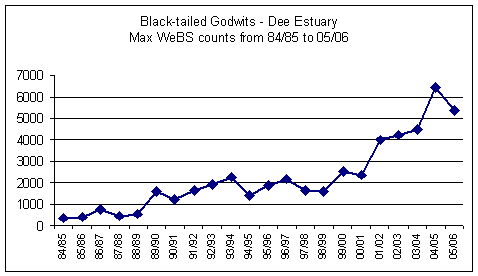 The latest WeBS report (2003/04) shows that the Dee Estuary was the most important wintering area for this species in the country for the winters of 2002/03 and 2003/04, and second only to the much larger Wash in importance for passage birds. Counts show that the Dee Estuary typically holds at least 20% of the country's total. The Dee Estuary also holds the largest oversummering flock in the country, many of which are first year birds in non-breeding plumage. This oversummering flock, usually numbering between 400 and 1,000, spend most of their time at Inner Marsh Farm RSPB although some appear to do a tour of the wetlands of Cheshire; for example in June 2005 there was a max of 189 on Frodsham Marsh and 310 on Sandbach Flashes. The Dee Estuary has also become a very important site for birds returning from Iceland after breeding. The highest count in the above graph is 6,452 which were present in September 2004. August counts have increased dramatically over the past four years, in 2000 the max count was 51, this had gone up to 3,567 by Aug 2004! It is likely that many birds now fly direct to the Dee Estuary from Iceland after breeding, with many subsequently dispersing east and south.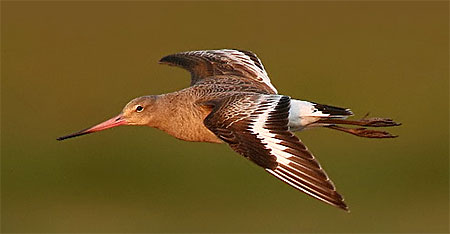 A male Black-tailed Godwit in full summer plumage at Inner Marsh Farm RSPB,
photographed on May 10th 2006 this bird was probably still on the way to Iceland to breed
Steve Round ©
We can state categorically that the birds we see on the Dee Estuary breed in Iceland as this has been firmly established by ringing. Back in the 1970's Black-tailed Godwits were starting to increase in numbers on the Dee Estuary, as were birds of the limosa race which breed in Holland, so there was some debate as to where our birds came from. After several attempts the Merseyside Ringing Group managed to ring 12 birds at Thurstaston in December 1974. Five years later one was found dead at Lytham, thus proving interchange between the wintering birds on the Dee and Ribble. But the star recovery came on 15th July 1982 when one was sadly killed on the road near Reykjavik, thus proving its Icelandic origin. The specimen was displayed in Reykjavik Museum, complete with British ring! But what has really revolutionised our understanding of Black-tailed Godwit movements is a colour ringing scheme started about 10 years ago, each bird is individually ringed and the rings can be easily seen from a distance. Birds are ringed both in Iceland and in this country, mainly around the Wash; it is estimated that 1 - 2% of the population have these coloured rings. That means with typical numbers on the Dee Estuary being about 4,000 then at least 40 should be ringed. The following codes are used for the rings: B = blue, N = black, G = dark green, L = light green (this often looks pale blue to the eye), O = orange, R = red, W = white and X = white marked with black Xs. Birds are fitted with four rings, usually two on each leg. These are normally put on the upper leg, above the knee, so a bird with an orange ring over a blue ring on the left leg, and a white ring over a red ring on the right leg is referred to as OB - WR. Sometimes a single ring is placed on the lower leg, below the knee. So the code for a bird where the upper left leg has a black ring over light green and the upper right has a dark green ring with white on the lower leg would have the code: NL - G/W.
Over the past three years I have managed to gather ringing data for 31 colour ringed birds which have been seen on the Dee Estuary. These have come from various sources for which many thanks - see Acknowledgments below. Of these birds 11 were ringed around the Wash and 20 in Iceland. The map of Iceland below shows the ringing locations of these 20 birds.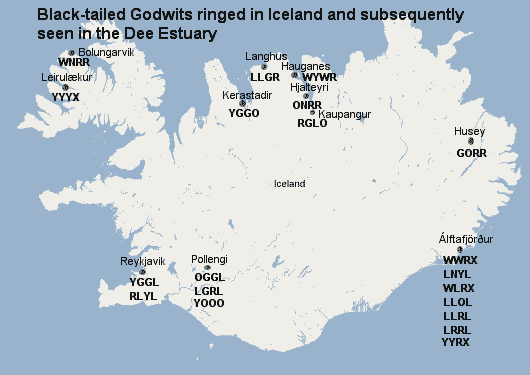 Map kindly provided by http://maps.google.co.uk/maps
As you can see the birds are well spread out across Iceland, with most on or near the coast. Alftafjordur, on the south-east corner of Iceland, is a staging post prior to breeding and many adult birds are ringed here in April before they disperse to their breeding grounds in May. Elsewhere many are ringed as chicks.
The rest of the article is the story of six individual birds:
OG-GL (left) was ringed as an adult male in Pollengi, Iceland, on 27th April 2000. Since then it has been seen at:

Stour Estuary, Essex, Feb 2001.
Dilksnes, Iceland, Apr 2002.
Ouse Washes, Cambs, Apr 2004.
Stubborn Sand, Norfolk, Aug 2004.
Snettisham RSPB, Norfolk, Sep 2004.
Cley NNT reserve, Norfolk, Apr 2005.
Thurstaston/ Heswall, Dee Estuary, Nov 2005 to Jan 2006.
Ouse Washes, Cambs, Apr 2006.
Eyjafjordur, Iceland, July 2006.
Thurstaston, Dee Estuary, Nov 2006 (1st, 3rd, 10th and 17th).

The movements of OG-GL between the west and east coast of England seems to be typical of Islandica Black-tailed Godwits. It also seems to be typical that they have a preferred area to spend late summer/autumn, another area in winter and yet another in spring before flying to Iceland to breed. OG-GL was photographed by Charles Farnell at Heswall on 17th Dec 2005. Note that the light green ring (lower right) looks white in the bright sun, but it's reflection is clearly light green.

WL-RX (right) was ringed as an adult male at Alftafjordur, Iceland, on 3rd May 2003. Since then it has been seen at:

Stour Estuary, Essex, Aug to Oct 2003.
Stour Estuary, Essex, Apr 2004.
Fellum, Iceland, May 2005.
Heswall, Dee Estuary, Dec 2005.
Thurstaston, Dee Estuary, Nov 2006.

WL-RX was photographed by Charles Farnell at Heswall on 17th Dec 2005, it was observed again on 17th Nov 2006.

LL-GR (left) was ringed as a chick at Langhus, Iceland, 4th Jul 2004. Since then it has been seen at:

Inner Marsh Farm RSPB, Dee Estuary, May 2005.
Leighton Moss RSPB, Lancs, Apr 2006.
Holbeach (The Wash), Lincs, Aug 2006.

LL-GR was seen and photographed by myself (Richard Smith) at Inner Marsh Farm on 4th May 2005. Being a first year bird you can see it is in non-breeding plumage, and more than likely spent the summer of 2005 at Inner Marsh Farm and other sites in Cheshire. Other birds nearby are showing their breeding plumage and these might well have been still on their way to Iceland.

WY-WR (right) was ringed as a chick in Hauganes, Iceland, 13th Jul 2005. Since then it has been seen at:

Newton Marsh, Preston Lancs, Apr 2006.
Sandbach Flashes, Cheshire, May 2006.
Inner Marsh Farm RSPB, Dee Estuary, Jul 2006.
Connah's Quay Reserve, Dee Estuary, Aug 2006.
Leighton Moss RSPB, Lancs, Sep to Oct 2006.
Marshside RSPB, Southport, Oct 2006.

WY-WR has been seen seven times this year, including Inner Marsh Farm and Connah's Quay on the Dee Estuary. It has visited several locations nearby, and like LL-GR in 2005, it seems likely to have spent the summer in Cheshire as a non-breeding bird. The photograph was taken by Andrew Wallbank at the Connah's Quay Reserve on 28th Aug, 2006.

Map kindly provided by http://maps.google.co.uk/maps

Since being ringed as an adult male in Iceland on 24th Apr 2000,

YG-GL (see map, above) has been recorded a remarkable 146 times. It has only been seen once on the Dee Estuary, at Inner Marsh Farm RSPB on 5th July 2003; it spends most of it's time further south. Late summer and autumn is spent on the south coast of England, it then likes to head for the south coast of Brittany for the winter and then moves north-east to Holland in early April before the long flight back to Iceland. The trip from Brittany to Holland is particularly interesting as it seems very likely that at this time it is moving with birds of the L l limosa race which winter much further south in Africa, many of which will be returning to breed in Holland in April.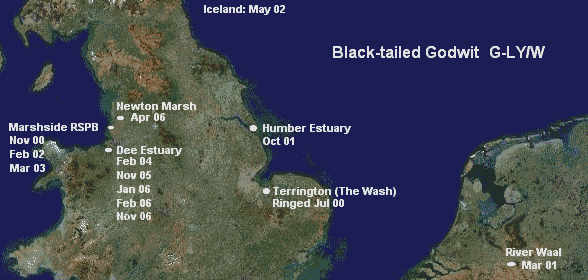 Map kindly provided by http://maps.google.co.uk/maps
G-LY/W (see map above) was ringed on the Wash as an adult on 31st Jul 2000. Since then it has been observed on six consecutive winters in the North-west of England, the last three on the Dee Estuary (including the current winter), so it obviously likes the area! It was recorded four times at Thurstaston and Heswall in November 2006. But like many other Islandica birds it also spends time on the east coast of England and has even got as far as Holland.
If you see any colour ringed Black-tailed Godwits please send details to myself by , I will send any records on to the organisers of Operation Godwit who are normally very prompt at sending back details of any birds seen, which I'll pass on to the finder. I'll also forward any details on to the Merseyside Ringing Group for their records. For further details of Operation Godwit see http://www.uea.ac.uk/~b072834/.
Acknowledgments:
1. Thanks to the folks at Operation Godwit (http://www.uea.ac.uk/~b072834/); in particular Jenny Gill, Sigga Beta and Tomas Gunnarsson. These three have supplied most of the data for this article.
2. Thanks to those who have sent me their ring sightings directly, including Karen Leeming, Matt Thomas, Charles Farnell and Andrew Wallbank, the latter two also kindly supplied photos.
3. Thanks to John Harrison of the RSPB who collated ringing data from Inner Marsh Farm in 2003 and 2004.
4. Thanks to Professor David Norman of the Merseyside Ringing Group who kindly allowed me to use the group's ringing details, including those birds ringed in 1974.
Other information for the article has come from:
1. Cheshire and Wirral Bird Reports 1984 to 2005.
2. BTO Migration Atlas.
3. Birds of the Western Palearctic, DVD edition.
4. WeBS Reports 2001-03 and 2003/04.
5. Dee Estuary WeBS Annual Report 2004/05, Neil Friswell and Colin Wells.
Any WeBS (Wetland Bird Survey) data in this article should not be used in any way without permission of the WeBS Office. To access official WeBS data please contact the WeBS Secretariat - BTO, The Nunnery, Thetford, Norfolk IP 24 2 PU http://www.bto.org .
Richard Smith.