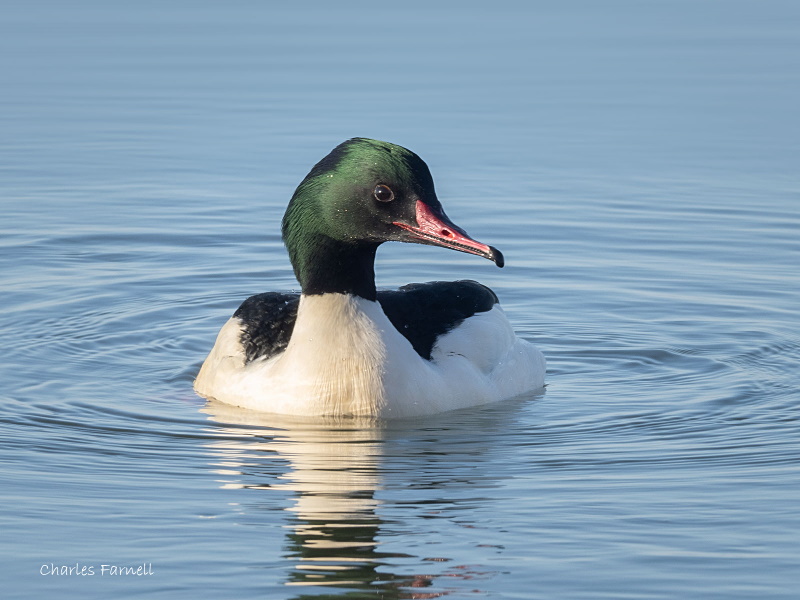 Goosander drake on West Kirby Marine Lake © Charles Farnell


Whatever you have learnt about ducks probably isnít true about the Goosander. This is a very different animal from your quacking park staples, and almost everything they do, it doesnít do. If you take a list of unusual duck facts, many of them will be true of Goosanders. The Goosander is a duck apart, a thoroughbred and a maverick. Far from being a portly, bread-ivorous consumer of benefit handouts, the Goosander is a big-game fishing duck. Dominic Couzens (Ref 1).


Being a bird mainly of rivers and lakes the Goosander is a scarce bird on the estuary, although it is definitely getting commoner than it used to be. Over the last four winters Goosanders have become regular on West Kirby Marine Lake. One bird was recorded several times in the winter of 2013/14 but before that I can only find two records of brief visits by single birds, in 2001 and 2010. On 7th December 2019 the first double-figure record was achieved with 10 and they reached 11 later that month. I assume what's driving this is just the general increase in the country as a whole and in particular the increase locally both in Clwyd and Cheshire. Interestingly, Goosander numbers at West Kirby have increased whilst Red-breasted Mergansers have shown a sharp decrease over the past few winters - see graph below. As the decrease seemed to have started well before Goosanders discovered the lake it seems unlikely one has caused the other although it's certainly a possibility due, perhaps, to competition for fish. Red-breasted Mergansers numbers on the Dee estuary generally have dropped somewhat from what they were 15 to 20 years ago but there doesn't appear to have been any significant drop overall in the past five years.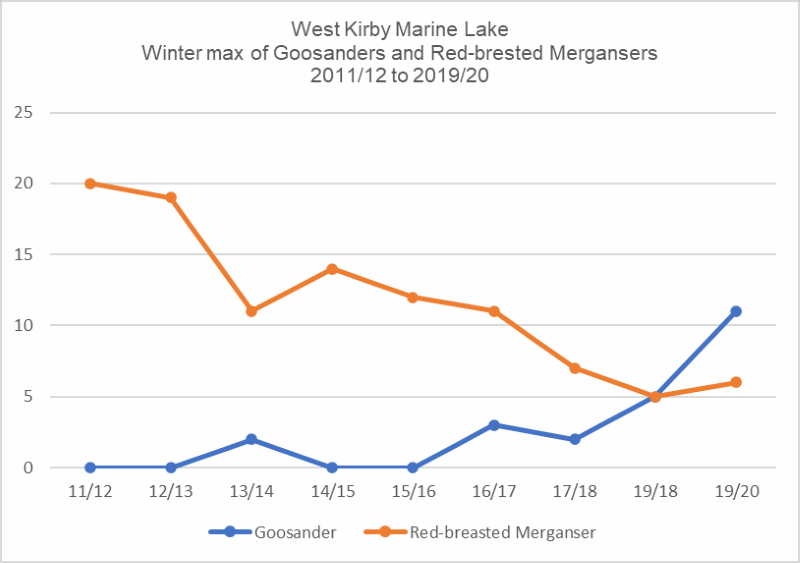 Until they recently started using West Kirby Marine Lake Goosanders were known mainly as a passage bird with flocks passing through in late summer and autumn. The bar chart below shows the annual distribution over a period of 50 years, so each bar is the total number over that period so you can see what I meant when I said it is a scarce bird! The large majority of records are of flocks of four or more with many reported in August and September flying west along north Wirral before heading into the estuary.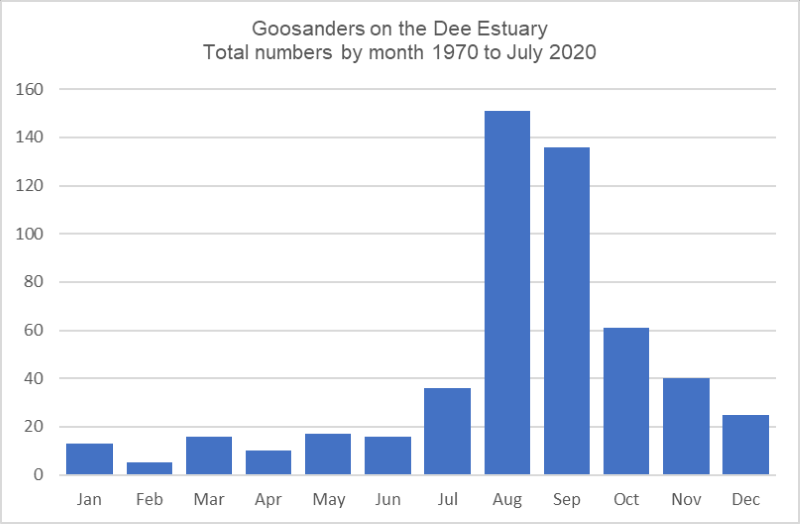 Part of the large flock on Middle Eye in August 2010 © Steve Williams (Hilbre Bird Observatory)


Most just seem to keep going, presumably heading inland, but occasionally some touch down such as the 31 seen on the rocks at Middle Eye in August 2010. At this time of year sizable flocks have also been recorded on the sea off north Wirral, at Point of Ayr, Parkgate, Connah's Quay and Burton Mere Wetlands. At other times of year ones and twos can turn up anywhere although the five non-breeding birds at Thurstaston in mid-June this year (2020) were certainly unexpected and a first for that site.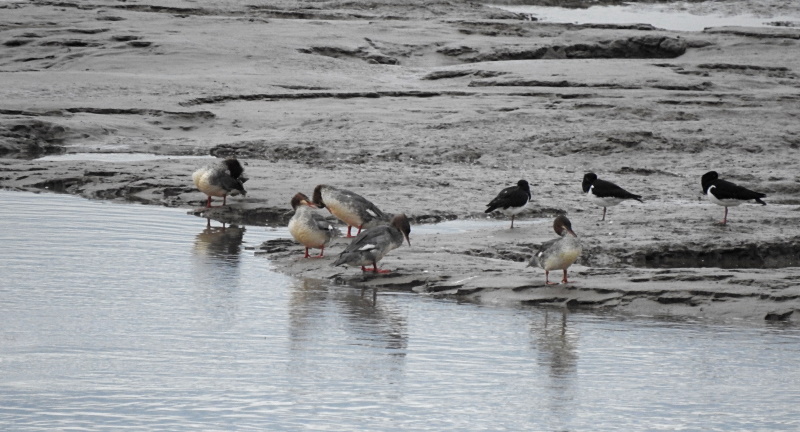 Immature Goosanders at Thurstaston June 2020 © Steve Hinde

One thing you will notice about any Goosander seen from June to October is that they will all be 'redheads' (females and young birds). All the adult males from north-west Europe, including the UK, perform an astonishing moult migration all the way to northern Norway, this was only discovered in the 1980s. You may think the males are selfish leaving the females to look after the recently hatched young birds but it does mean they are not competing for food at the breeding areas whilt they themselves are in an area where food supply is more reliable.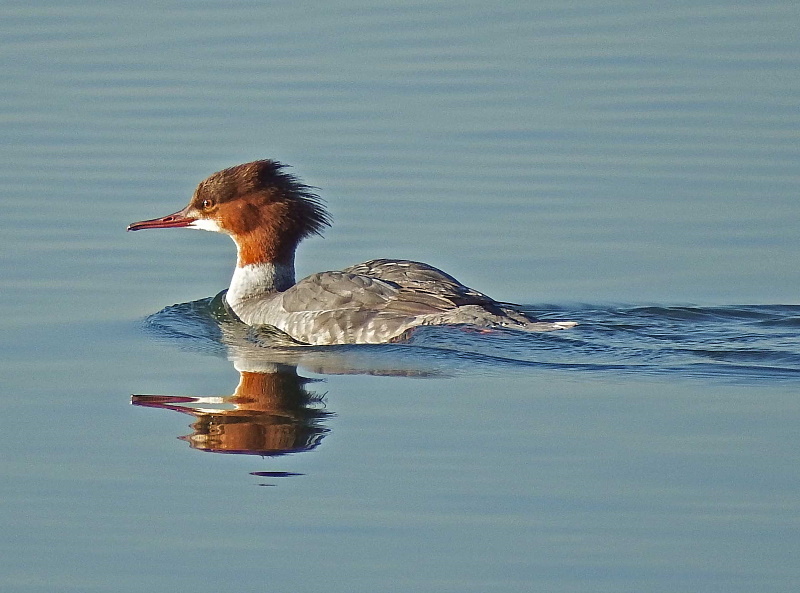 'Redhead' on West Kirby Marine Lake © Tanny Robinson

History and Status

Goosanders seem to have been present in very small numbers as a wintering bird on the Dee estuary in the 19th century and Eric Hardy mentions one in Liverpool Museum which had come from Hoylake in 1894. They remained rare well into the 20th century and the first record in double figures was 15 off Hilbre in November 1978, although such flocks have become more regular to the present day it is still unusual to see that many together on the estuary.

Goosanders were unknown as a breeding bird in the UK until they colonised Scotland in the late 19th century, not reaching England until 1941. It took them until 1995 to start breeding in Cheshire although they were certainly breeding in Clwyd by 1990. Perhaps due to lack of suitable nesting habitat they remain a scarce breeder in Cheshire but are more numerous in North Wales where the Clwyd estuary seem particularly attractive to them and Rhuddlan in particular is regularly mentioned in the bird reports as a place to see several broods in the spring and summer.

Numbers inland are much higher in the winter, a survey in 2010-11 found 166 in Cheshire and similar numbers are found in Clwyd on various lakes and reservoirs as well as both the River Clwyd and River Dee. The birds seen flying through the Dee estuary in late summer and autumn are likely to include some of these birds which over-winter.
Nationally it is estimated that there are 3,500 pairs breeding and 15,000 over-wintering. The British breeding population is largely sedentary (i.e. within the UK, except for the male moult migration) and the wintering numbers are boosted by migrants from continental Europe, although, except in hard winters, numbers coming here for the winter is probably quite low and are mainly found in south-east England.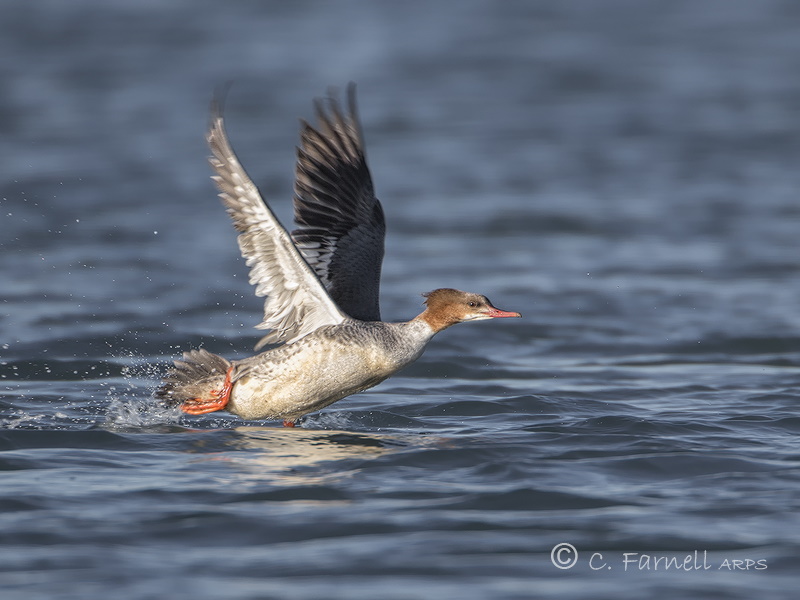 'Redhead' on West Kirby Marine Lake © Charles Farnell

References:

1. Dominic Couzens, Goosander, Bird Watching magazine, October 23 2017.

2. Goosander records from http://www.deeestuary.co.uk/, 2000 to 2020 (many thanks to all who sent in their sightings).

3. Cheshire and Cheshire & Wirral Bird Reports 1965 to 2017.

4. Clwyd Bird Reports and North-east Wales Bird Reports various from 1980 to 2018.
5. B. Little and R.W. Furness, Long-distance moult migration by British Goosanders, Ringing and Migration 6: October 1985.
6. Eric Hardy, The Birds of the Liverpool Area, 1941.
7. Steve Barber, The CAWOS Goosander Survey 2009-2011, C&W Bird Report 2010, CAWOS.
8. Population estimates of wintering waterbirds, British Birds, March 2019 (Vol 112).
9. Richard Hearn, Status of Goosanders in the UK, JNCC, February 2015.

10. Hedley Bell, The Birds of Cheshire, 1962.
11. Hilbre Bird Observatory Blog, http://hilbrebirdobs.blogspot.com/.
12. WeBS Report Online, BTO, https://app.bto.org/webs-reporting/ .

Richard Smith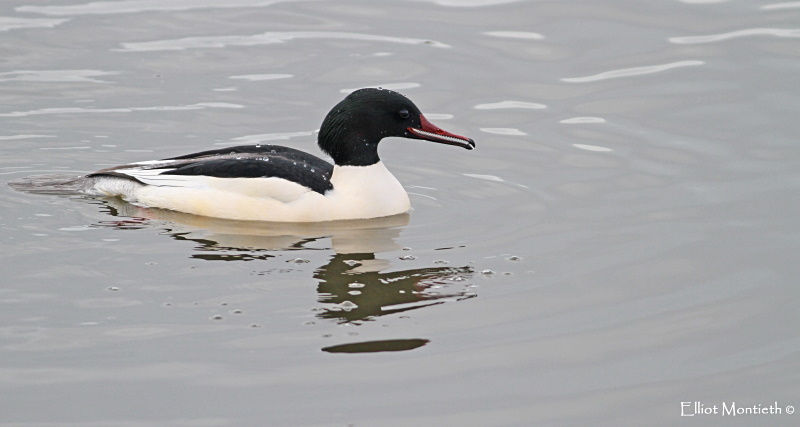 Drake Goosander on West Kirby Marine Lake © Elliot Montieth

July Bird News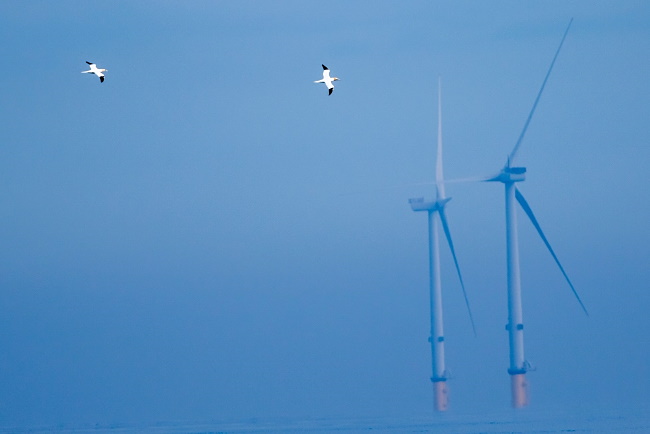 Gannets off north Wirral, May 3rd © Peter Sutton


They say it was the sunniest spring on record and it certainly seemed like it with some glorious weather, but we did have two spells of strong westerlies through the month resulting in plenty of Manx Shearwaters and Gannets with highest counts on the 1st with at least 100 Manxies and 'hundreds' of Gannets. On the same date we also had an Arctic Skua and a Puffin.
There were plenty of waders coming through including 142 Whimbrel on the 6th and 3,400 Dunlin, both counted at Heswall. There were lots of small waders also at Hoylake but more unexpected were at least four Curlew Sandpipers, two of which were recorded at night on nocturnal migration. These are a lot less common in spring than in the return migration in September.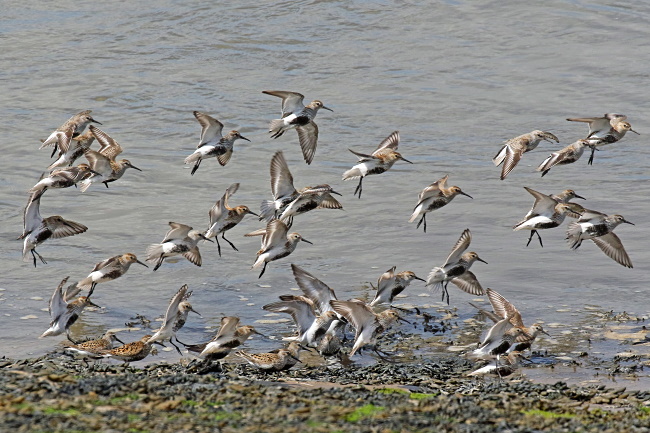 Dunlins at Leasowe, May 13th © Roy Lowry


Due to migration overshoot May is often a good month for rare and scarce birds and this year was no exception. We didn't get a Yellow Wagtail bonanza like last year but a Blue-headed Wagtail was a nice find on West Kirby Shore on the 6th. This is the Yellow Wagtail race which breeds in western Europe. There were at least 16 records of Quail with probably three birds involved - at West Kirby, Parkgate and inland of Decca Pools. Although 2019 was also a good spring for them most years we don't get any. There was an elusive Hoopoe in Lower Heswall, seen briefly twice - I suspect it was feeding in people's gardens. A Turtle Dove was spotted at Red Rocks on the 7th.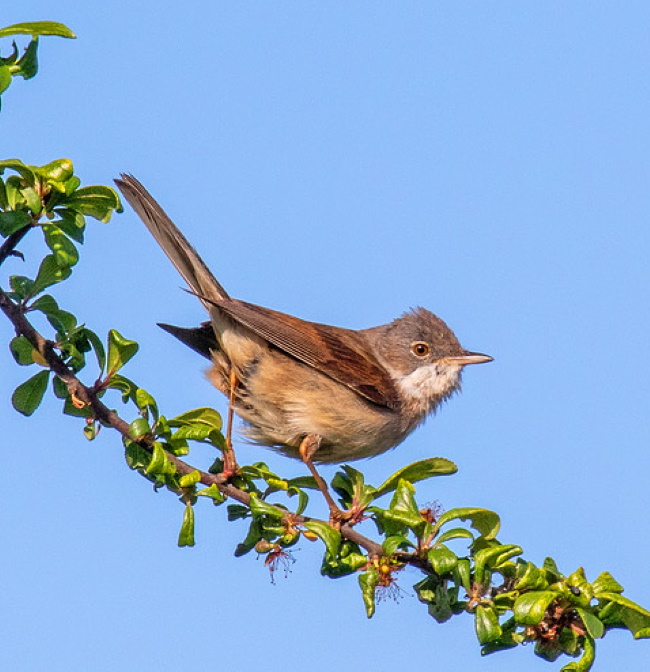 Whitethroat at Heswall, May 20th © Frank Burns

A Black Redstart was on the tide wrack at Parkgate on the 3rd. Ravens seem to be doing well in our area and a family group of five was at Leasowe. There have been a total of nine records of Cuckoos this spring (seven in May), not untypical for what has now become a quite a scarce bird but good that at least some are still present. At least one Red Kite was recorded flying over Wirral on several occasions in the second half of the month with more on the Welsh side around Halkyn.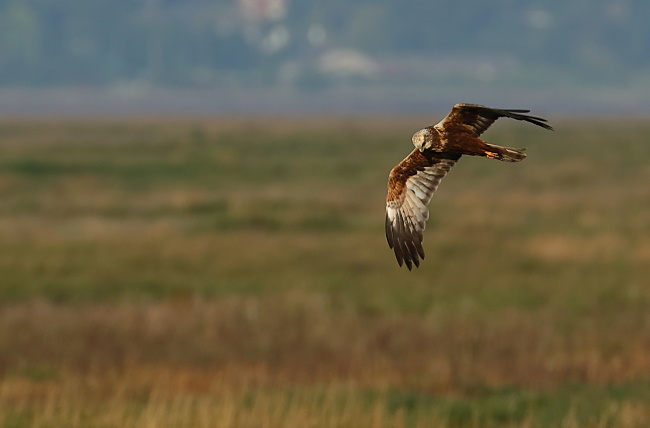 Marsh Harrier at Parkgate, May 28th © Roy Wilson


Most days there were between two and four Spoonbills at Parkgate. There were several reports of the above male Marsh Harrier at Parkgate with unusual plumage. There were also four reports of single Marsh Harriers along north Wirral, one was seen struggling against the wind on the 22nd out with the Manx Shearwaters!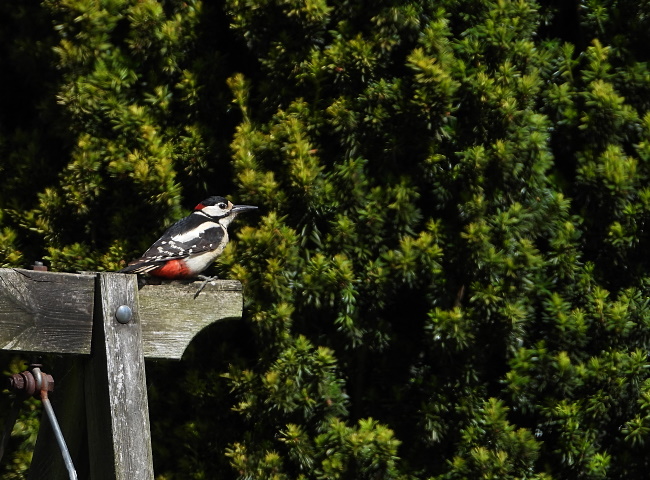 Great Spotted Woodpecker in Caldy, May 25th © Richard Smith

Many thanks go to Matt Thomas, David Haigh, Mark Turner, Carole Killikelly, Steve Hinde, David Leeming, Alan Hitchmough, Derek Bates, Allan Conlin, Steve Williams, Karen Leeming, Richard Whitby, Frank Burns, David Thompson, David Small, Linda Platt, Jeremy Bradshaw, Ian Goldstraw, Mark Gibson, Peter Sutton, Les Hall, Steve Hasell, Mal Sargeant, Bill Wonderley, William Keig, Gail Wilson, Richard Beckett, Paul Greenslade, John Blore, Chris Revell, Roy Lowry, John Hewitt. Roy Wilson, Stephen Downing, Danny Carmichael, Roger Evans, Ken Mullins, Hugh Stewart, Sheila ryde, Graham Thompson, Leon Castell, Anthony Davies, Ian Macadam, Phil Haddock, Steve Wende, Simon Dowell, Nick Bullen, Harry Lyon, Kelvin Britton, Ian Fewtrell, David Peate, Elizabeth Shand, Steve Conor, Edward Murphy, Dave Mansell, Tony Hession, Geoff Peters, Ian Fleming, Peter Broder, the
Dee Estuary Wardens
and the
Hilbre Bird Observatory
for their sightings during May. All sightings are gratefully received.
What to expect in July
With the lifting of some restrictions this section has been reinstated.

As per the above article Sandwich Terns will be very much in evidence but there will also be plenty of Common Terns about feeding over the sea from our two colonies at Seaforth and Shotton. I don't know if we will be allowed to get to Gronant but there should be plenty of fledglings on the beach by the end of July, and we always get an influx of adults from other Irish Sea colonies round about the third week with may be as many as 800 birds in total. Arctic Terns are also a possibilty, look out on the edge of East Hoyle Bank for these.

As well as terns the estuary will fill up with gulls and it's always good to see Mediterranean Gulls in full breeding plumage. Also in summer plumage will be returning waders and there should be plenty of Dunlin and Black-tailed Godwits, with a good chance of seeing one or two Knot, Bar-tailed Godwit and Spotted Redshank. Whimbrels will also be coming through on their way south as will Common, Green and Wood Sandpipers although only in small numbers.

Given a strong westerly sea-watching can be excellent with skuas, Manx Shearwaters and Gannets.

Forthcoming Events
Given a strong westerly sea-watching can be excellent with skuas, Manx Shearwaters and Gannets.