Below is Phil Woollen's account of the Pallid Harrier which visited the Dee estuary marshes, first spotted towards the end of September 2017 and it gave particularly good views from September 29th to October 1st. The account is taken from Phil's A Wirral Birders Blog. Quite correctly, Phil headed his account with 'potentially a 1st for Cheshire' as it has not yet been accepted, but there seems little doubt it will be.
Pallid harrier is one of those rarities that seem to have got commoner over the last decade as they've increased their breeding range westwards into Finland. A pair also bred for the 1st time in Holland this year and there was a long staying male displaying at Bowland. With a winter harrier roost off parkgate Old Baths we've been hoping for a Pallid Harrier for some time - especially as their now almost expected on our annual Shetland jaunt. The 1st one I ever saw was when I was working in Finland in 1983 when it was still scarce over there and I twitched it with a mad group of Finnish birders. The first UK one I saw was the juvenile at Winterton, Norfolk in June 2006 - I took a very young Dan Pointon along with me! Photo of this bird I took is below: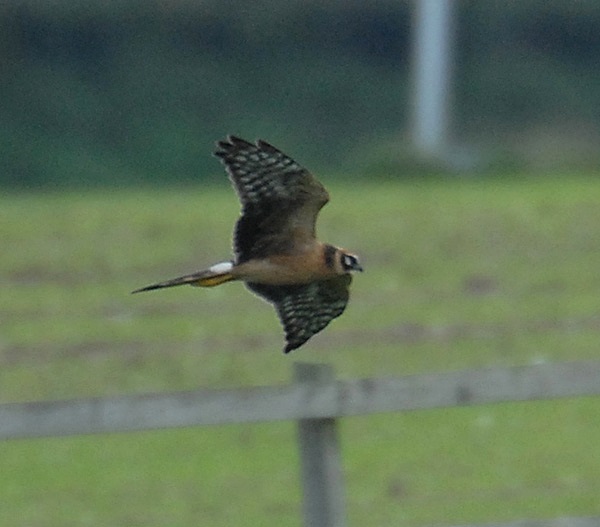 When Alan Davies reported he'd seen an interesting, small, long winged harrier distantly on the Dee estuary last week my interest was aroused. Unfortunately I couldn't get down during the week and after a few days with no news it was temporarily forgotten. Until the weekend............

Independently both Eddie Williams and Mark Garner saw it and both confirmed it was a Pallid Harrier. Mark P arranged to come to our house and we travelled the short distance to the marshes in pouring rain to find we'd just missed the harrier by a few minutes! It was quite a social gathering of Cheshire & Wirral's finest waiting patiently in the pouring rain. At this point the bird was tentatively being aged as an adult female, not a juvenile, and to make things even more confusing there was a ring-tailed Hen Harrier in the same location that some people were watching whilst others were watching the Pallid Harrier! It didn't help when people claimed they'd seen it then asked what it looked like and what the identifying features were. No wonder the bird information services got their undies in a twist on the Sunday and were putting out Pallid / Hen Harrier!

After a long wait the bird appeared again and flew past at distance before pitching down into the marsh where it spent the next 90 minutes barely visible. A Hen harrier appeared and we were all watching that and comparing diagnostic features when the Pallid decided to fly again! This time it put on a good show to an appreciative audience and video footage and photo's were obtained seemingly proving it was an adult female.

Mindful of the spectre of hybridisation with Hen Harrier (common in Finland) a great deal of attention was paid to the all important wing formula. Jack Ashton Booth's blog was great help in this respect:
http://raptor-id.blogspot.co.uk/2017/06/harrier-hack-1.html?m=0

A bird we also saw at Loch Hillwell, Shetland, that had been apparently oiled by a Fulmar also caused a lot of discussion at the time. See here:
http://birdingfrontiers.com/2011/10/13/juvenile-pallid-harrier-identification/

Overall we were happy it was a sub adult female rather than a juvenile. I didn't take my camera with me because of the pouring rain. Luckily Simon Slade was braver than me and took the pictures below.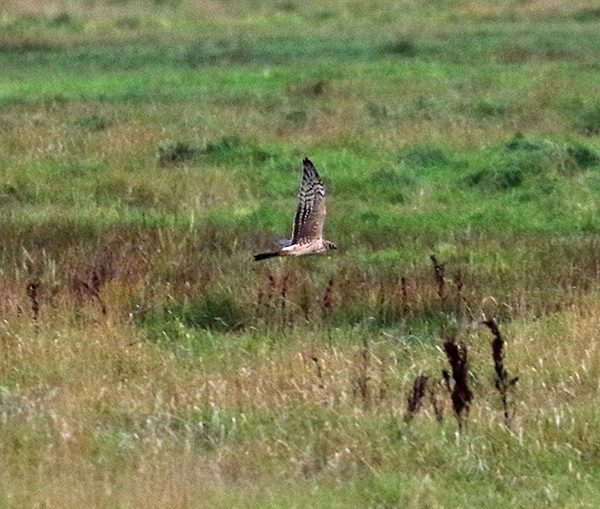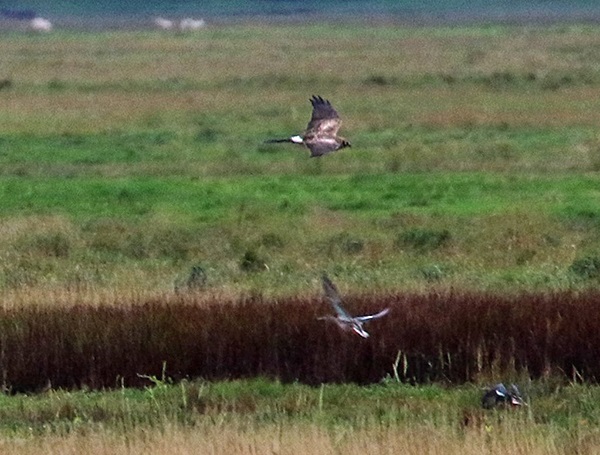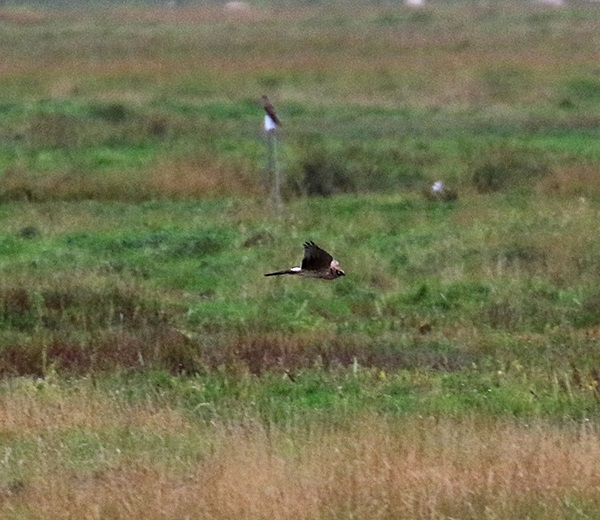 A great afternoons birding with great company, a good craic, some good discussion and some good birds. As well as the Pallid Harrier there was a supporting cast of 3 Short-eared Owls (all in the air together), Hen Harrier, at least 3 different Marsh Harriers, Sparrowhawk, Merlin, Peregrine and Kestrel as well as at least 2 Great-white Egrets (seen together).
Phil Woollen
(2nd October 2017).
A Wirral Birders Blog:
https://wirralbirders.blogspot.co.uk/2017/10/pallid-harrier-on-dee-estuary.html
Top of Page
Colour Ring Report

In terms of numbers recorded, it has been a record breaking few weeks for colour-ringed (CR) birds including a remarkable 95 knots. But we've also seen a good selection of other CR birds including oystercatchers. Since our little group have been logging the CRs, at least 12 years now, we've only seen a total of 10 Oystercatchers, amazingly six of those have been recorded in these past six weeks! With so many CR birds seen I can only give a few highlights, as follows: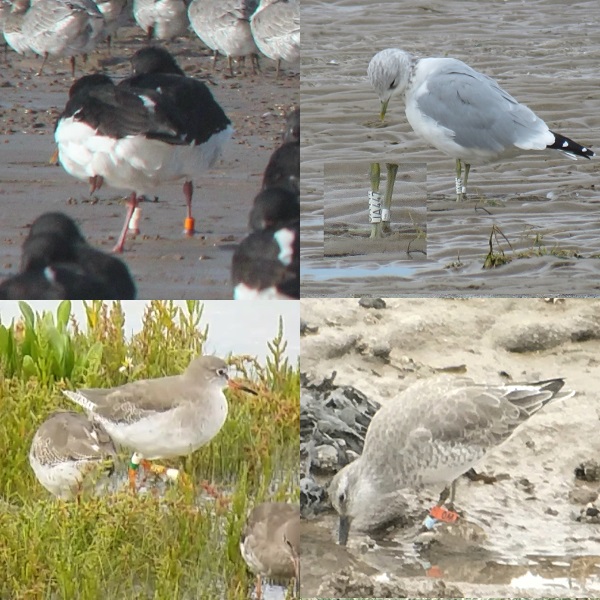 Clockwise starting top left: Oystercatcher WW-GflagO (© Paul Ralston), Common Gull JA447 (© Richard Smith), Knot OflagP(OM) (© Alan Hitchmough), Redshank R/YW-WG (© Peter Haslem).
Oystercatchers
WW-GflagO - the Gflag, which should be on the right tibia, was missing, same as one we saw last winter. Apparently the birds can get these off! (To read about the study into Icelandic breeding Oystercatchers see my article).
Ringed as incubating adult in SW Iceland on May 27th 2015.
Recorded on Hoylake shore 20th and 22nd October 2017.
Also seen in Iceland close to ringing site in April 2016 and March and April 2017.
No other records outside Iceland.

Quite a few of our Oystercatchers have been ringed as breeding birds or chicks in north-east Scotland where there are two ringing groups - Grampian and Tay. We've seen three over the past few weeks, this one being typical:
T26 (on yellow ring on left tarsus).
Ringed with metal ring as an adult in Ballater, Aberdeenshire, on April 1st 2012, then ringed with colour ring (T26) at the same location on March 29th 2014.
Recorded on Hoylake Shore on September 21st 2017.
Also sighted at Glen Cairn in June 2014, and in the river roost at Ballater in March 2015 and March 2017.
Common Gull
JA447 (black on white ring).
Ringed as a breeding adult at Skranevatnet, near Bergen, Norway, on June 5th 2016.
Recorded on Hoylake Shore on August 19th 2016 and October 9th 2017.

Knots
See
last month's Ringing Report
for details of the Orange flagged knots and the project studying Knots in the north-west estuaries.
We continue to record these knots, below is a summary.
Total Orange flagged not recorded up to 31st October:
Caldy Wildfowl Collection - 78
Thurstaston Shore - 10
Plus a further 3 at both Caldy and Thurstaston
Hilbre - 1 (see photo of "OM" above)
Hoylake Shore - 1
Making a total of 93, 18% of the birds ringed on Sep 22nd at Altcar.
Plus there have been 45 sightings of these birds at Crosby and Formby Point, demonstrating just how much movement there is between the sites.

Redshanks
We don't see many colour-ringed Redshank but two were recorded over the past two months, both ringed near Cardiff. Here are details of the one in the photo:
R//YW-WG
.
Ringed at Peterstone (east of Cardiff) on December 13th 2015.
Recorded on Oakenholt Marsh on September 21st 2017.
Also recorded in Rhymney mouth (east of Cardiff in January 2016.
Dunlins
Orange ring (left) - Orange flag (right)
- flag was inscribed with letters but we were unable to read it, the bird was a juvenile. Here is the response from the ringer:
The field season at Longyearbyen, Svalbard, failed this year. It was very late and not good breeding. Only 5 juveniles were flagged !! All of them near Longyearbyen. The distance Longyearbyen-Hoylake is 2857 km . The 5 birds were flagged in the period 09.08-21.08.2017.
O-Y(X16)
- photo below.
Ringed as a juvenile on passage on September 20th 2017 at Ynyslas NNR, near Aberystwyth, Wales.
Recorded on Heswall Shore on September 22nd 2017.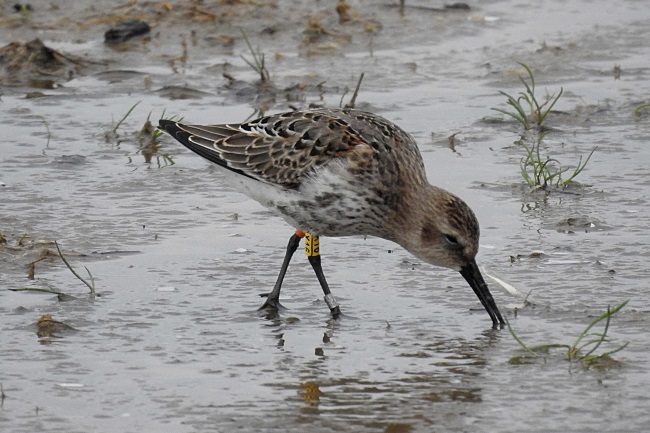 Dunlin X16 on Hoylake Shore © Les Hall

Richard Smith.
Colour-rings were also recorded by Matt Thomas, Steve Hinde, Peter Haslem, Richard Beckett, Paul Ralston, Alan Hitchmough, Les Hall, Jane Turner and Elliot Montieth.
Top of Page
October Bird News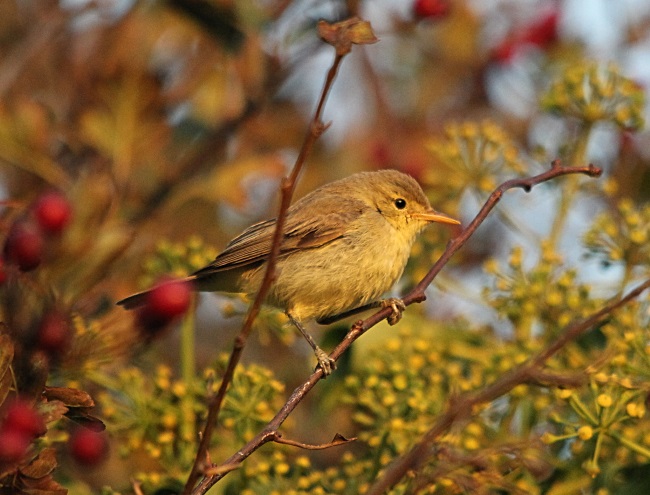 Melodious Warbler along Lingham Lane, October 29th © Jeremy Bradshaw

What a fabulous month. The remnants of hurricane Ophelia was followed by storm Brian which in turn was followed by at least two more days of strong winds, all of which made for some great sea-watching. But in between these storms we had some beautiful quiet, often sunny, days making for some very pleasant birding particularly watching raptors, owls, egrets, geese etc over and on the marshes. Then there were the rarities.
The Pallid Harrier (first for Cheshire and Wirral) which was spotted at the end of September remained for two more days and there were a further three reports through the month. A Pectoral Sandpiper was at Burton Mere Wetlands on the 4th. A Sooty Shearwater during the storms on the 5th gave great views to a lucky few at Wallasey. Four records of Yellow-browed Warblers was back to more normal numbers after last year's influx and a Rose-coloured Starling was at Connah's Quay on the 16th. There was a very late record of a Melodious Warbler on October 29th at Lingham Lane, the first for Cheshire and Wirral since 1995. These are nearly always found on the coast and all previous records for our area were either on Hilbre or at Red Rocks.
To record Leach's Petrels on nine days in October was excellent, max 18 at Hilbre on the 5th. We also had Sabine's Gulls, Black Terns, Pomarine, Long-tailed, Arctic and Great Skuas and three more Grey Phalaropes to add to the 2017 total after an exceptional September.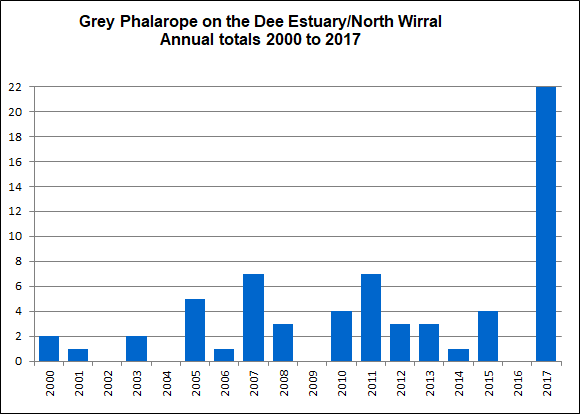 This autumn we haven't had the massive flocks of Common Scoter seen in recent years, but 7,000 on the 2nd wasn't bad!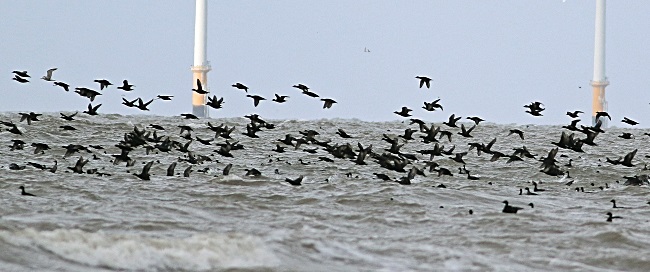 Just how many Marsh Harriers we've had on the estuary I'm not sure but, given the number of records received, the count of 10 counted coming into roost on the 17th was not totally unexpected. There are at least four Hen Harriers on the marshes including a grey male. It looks like it's going to be a good winter for Short-eared Owls with several counts of six and one of seven. At least one Cattle Egret has been at Burton Mere Wetlands all month and there have been counts of nine Great White Egrets at both Neston and Heswall.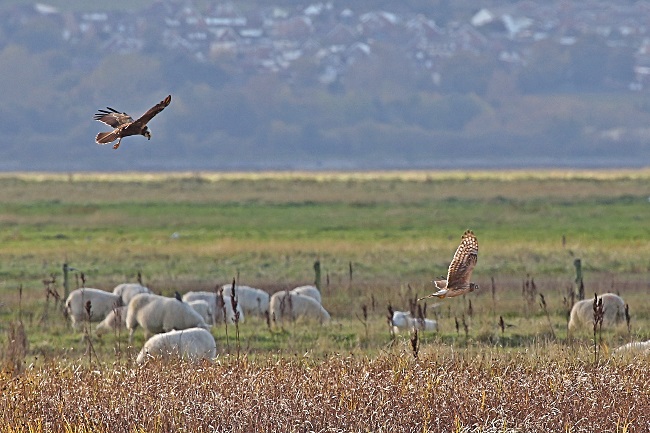 Marsh Harrier (left) and Hen Harrier (right) over Burton Marsh, October 28th © Roy Lowry
Many thanks go to Mark Turner, David Haigh, Mal Sergeant, Steve Hinde, Jeremy Bradshaw, Mark Gibson, Matt Thomas, Chris Butterworth, Roy Lowry, Elliot Monieth, Paul Shenton, David Leeming, Alan Hitchmough, Richard Whitby, Steve Williams, Les Hall, Jeff Cohen, Dave Edwards, Richard Beckett, Derek Bates, Peter Haslem, Jane Turner, Eddie Williams, Allan Conlin, Karen Leeming, Geoff Robinson, Julie Rogers, Linda Platt, Colin Schofield, Charles Farnell, Paul Ralston, Alan Irving, Steve Hand, Sheila Ryde, Tom Giles, Steve Edwards, Bernard Machin, Eric Burrows, Nicholas Montieth, Paul Mason, Paul Lee, Craig Bell, Paul Rutter, Mike Hart, Andy Newall, Ryan Williams, Sharon Reilly, Frank Burns, Andrew Ingham, Chris Challoner, Mark Evans, Gail Wilson, Clive McLaren, Adrian Morgan, John Watson, Steve Hart, Dave Harrington, Bryan Joy, David Thomas, Ray Sherlock, Keith Ackerley, Richard Payne, David Peate, Martin Kalaher, Steph Abrahams, John Wright, Ian Hughes, Paul Vautrinot, Michael Bevin, Alan Patterson, Ian Fleming, Noreen Lowe, David Small, Henry Cook, the
Lighthouse and Wirral Birding Blog
, the
Dee Estuary Wardens
and the
Hilbre Bird Observatory
for their sightings during October. All sightings are gratefully received.
Top of Page
What to expect in December
What I would like is days on end of sunny frosty days with no wind. Just fabulous to be out and about in such weather and so easy to spot the birds in those conditions. But I expect it will be wet and windy as usual!
We've already had good numbers of Brent Geese arriving and the trend over the past couple of winters is for them to disperse away from Hilbre - so we can expect them on West Kirby Marine Lake feeding on the wall by the prom, and also near the causeway at Thurstaston, seemingly unconcerend by the dog walkers on the beach. Thurstaston is also the best place to see the lovely duck, the Pintail, probably best about two hours either before or after high tide and they often congregate at the stream coming from Tinkers Dell where they gather for a drink of fresh water. We've had increasing numbers over the past three or four winters with up to 2,000. This is also a good spot to see Teal feeding on the mud when the tide is out.
Other willdfowl to look out for are Pink-footed Geese on the marshes, Red-breasted Mergansers on West Kirby Marine Lake and Scaup off Hilbre and north Wirral.
Connah's Quay Nature Reserve has become one of the most important sites for Twite in the north-west of England and numbers have reached 200 here in the past couple of years. Look out for Snow Buntings, never very common here but we can get one or two along north Wirral and Hilbre, with may be a small flock of six or so at Point of Ayr and Gronant.
Jan
Given some nice still cold days sea watching can be surprisingly good in January with thousands of Scoters and hundreds of Great Crested Grebes, plus Goldeneye, Scaup, Long-tailed Duck and Red-throated Divers.
Waders will be preent in their thousands, particularly Knot which should give some spectacular displays at the roost sites at Hoylake, West Kirby and Point of Ayr. The pontoon on New Brighton Marine Lake is a very reliable spot to see Purple Sandpipers, perhaps reaching 20 or more on a windy day when waves force them off the rocks at high tide.
Keep an eye out for Water Pipits around the Neston Old Quay area - over the past couple of winters we have come to realise there are more there than previously thought with up to four regular, plus one or two at Burton Mere Wetlands.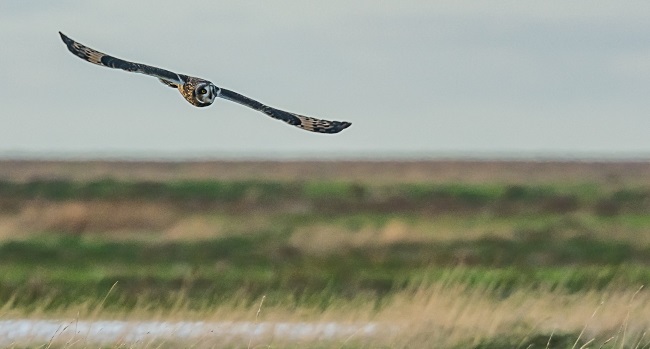 Short-eared Owl near Denhall Quay, October 28th © Paul Lee
Top of Page
Forthcoming Events
November Highest Spring Tides (Liverpool)
Also see Tides page.

4th November, 10.47hrs (GMT), 9.7m.
5th November, 11.27hrs (GMT), 9.9m.
6th November, 12.10hrs (GMT), 9.9m.
7th November, 12.54hrs (GMT), 9.7m.
Forthcoming Events
Organised by the Wirral Ranger Service , Flintshire Countryside Service and the RSPB (Dee Estuary):
All these events and walks have bird interest, even those not advertised specifically for birdwatching. No need to book for these events unless specified - please check below.
Sunday 5th November and Monday 6th November, High Tide Raptor Watch at Parkgate Old Baths.
10am-3pm
Price: Free
High tide on 5th Nov is 11.27hrs (9.9m) and on 6th Nov is 12.10hrs (9.9m). Best to arrive at least an hour before high tide to watch the birds being pushe din by the tide.
Come along to the Old Baths car park for chance of seeing a range of birds of prey hunting over Parkgate Marsh. Harriers, peregrines and merlins are all returning to the estuary for the winter and this is one of the best places to watch, plus short-eared owls if we're really lucky. The big tides on these days should push things in close. Also chance of seeing a range of ducks, geese, wading birds and egrets as their flocks build on the estuary for the winter.
There is free public parking at the Old Baths car park (CH64 6RN) at the north end of The Parade, and the Wirral Country Park car park on Station Road (CH64 6QJ). There are public toilets at Mostyn Square in the middle of The Parade, and a number of pubs and cafes.
Directions:
Old Baths car park, Boathouse Lane/The Parade (B5135), Parkgate, Neston, Cheshire.
For further details ring: 0151 353 8478.
Saturday 18th November, Dusk Chorus at Burton Mere Wetlands.
3-5pm
Price: £8 per person (RSPB members £6.50)

Booking essential, ring: 0151 353 8478.

We're all familiar with the dawn chorus, but have you ever stopped to listen to the sounds of the countryside as the sun goes down? Honking geese, whistling waders and chattering jackdaws soundtrack peaceful sunsets at Burton Mere Wetlands, with one of the country's largest egret colonies returning from the marsh, and a small starling murmuration over the reedbed.
Join us for a late afternoon guided walk as the temperature drops and the birds start to prepare for another long night, returning as the light fades and many birds return to Burton Mere Wetlands to roost. Finish with a hot drink back in Reception Hide and chance of seeing a barn owl emerging to hunt.
Places are limited, so advanced booking and payment are essential.
Sunday 3rd December, Wetland Wonders - Waders and Wildfowl at
Burton Mere Wetlands.
8.30-10.30am
Price: £8 per person (RSPB members £6.50)
Booking essential
, ring: 0151 353 8478.
The UK's wetlands are a vital winter home for thousands of wading birds and wildfowl, and the Dee Estuary is one of the best places in the country to see them. Join an experienced guide for a morning walk around Burton Mere Wetlands to brush up on your ID of the various waders, ducks, geese and swans that spend the winter here.
There's also a great chance of seeing a range of birds of prey including harriers and peregrines, plus impressive flocks of finches and buntings in the sacrificial crop fields, whilst kingfishers have been very active this autumn.
The walk will stick to the reserve's normal trails which are mostly hard-surfaced, but the outer reaches of the reserve have natural paths and a couple of sets of steps to reach the Inner Marsh Farm hide. Warm up back at the Reception Hide with a hot drink and a chance to see what may have been pushed in from the saltmarsh by the rising tide.