October 2021 Newsletter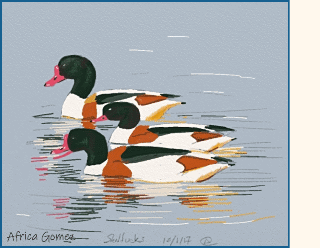 Species Spotlight - Shelduck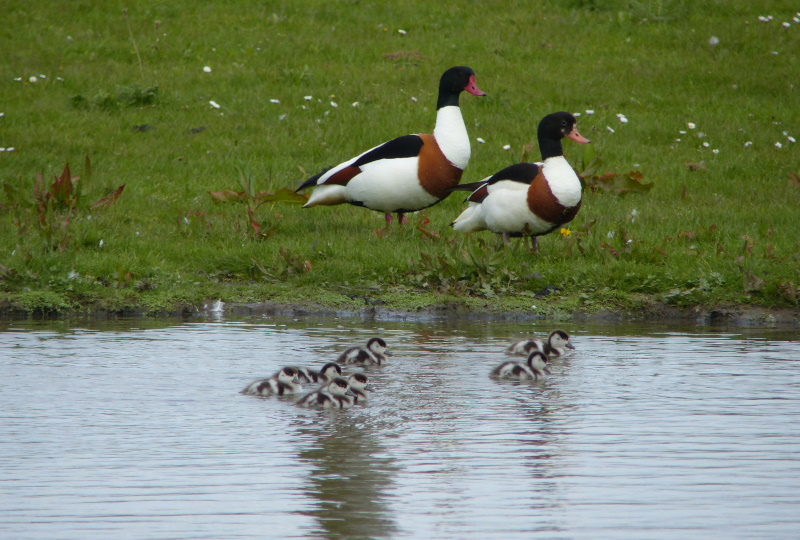 Shelduck pair with chicks at West Kirby © Mark Turner

The large and colourful Shelduck is always a joy to see, being commonplace on the estuary we rather take them for granted but they really are exotic looking birds. We are lucky as the Dee estuary and adjacent Mersey estuary are the most important sites in the country for them.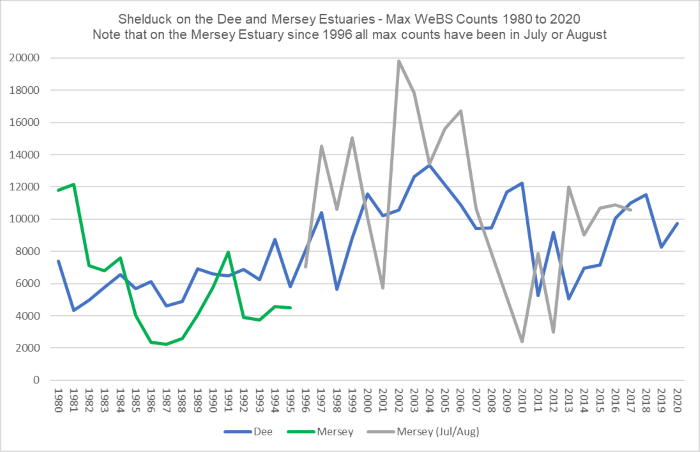 The graph above shows max annual counts (Wetland Bird survey) from the Dee and Mersey estuaries from 1980 to 2020. In the late 1970s and early 1980s the Mersey estuary had more Shelduck than the Dee, at that time numbers peaked on the Mersey during the winter months. But around 1996 there was a dramatic change in their behaviour when large numbers started to use the Mersey estuary as a post-breeding moulting site during July and August, reaching a remarkable 19,810 in August 2002. Shelduck, of course, are famous for their long-distance flight to the Waddensea (mostly to the Helgoland Bight, NW Germany - a straight line distance of just over 470 miles from the Dee estuary) where they moult in July and August. Probably well over half of the UK adult population undergo this flight but a significant number stay to moult in this country mainly in the Humber, the Wash, Firth of Forth and the Mersey - and it is the Mersey which is now by far the most important moulting site in the UK. Numbers moulting on the Mersey do fluctuate quite wideky from year to year and are currently just over 10,000 (there have been some missed and/or partial counts since 2017 so have not been included in the graph - but overall numbers do appear to have dropped in the past three years).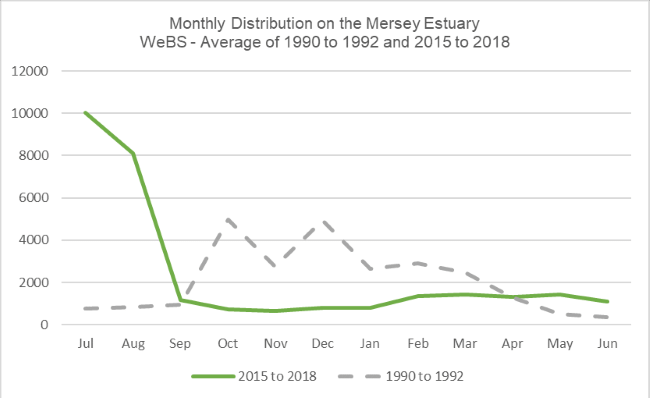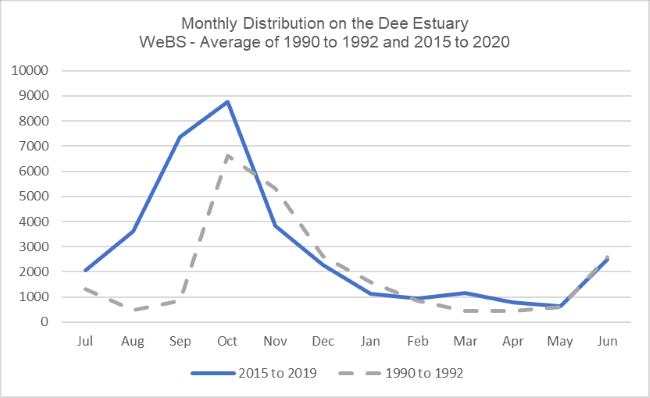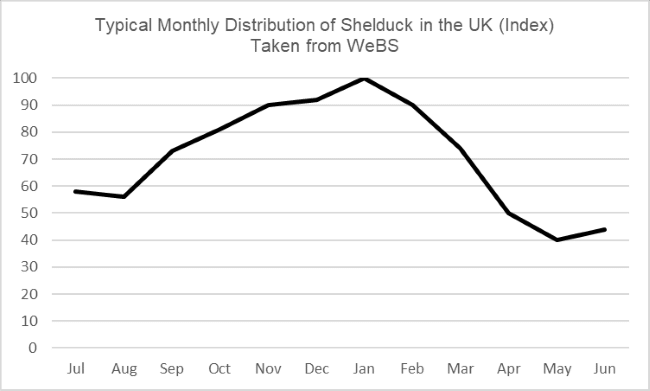 These three graphs, above, tell an interesting story. I've compared the monthly average in the early 1990s, i.e. pre 1996 and when numbers nationally were high, to the current monthly distribution. There has been a dramatic change on the Mersey and the graph shows the peak numbers which now occur in July and August, compared with autumn and winter peaks in the early 1990s. Wintering numbers there are now only around the 1,000 mark, perhaps the moulting flock are depleting the food sources which then don't recover until the next summer. On the Dee estuary the change in distribution is more subtle. The peak on the Dee estuary has always occurred in autumn so our mudflats must have plenty of food for birds returning from their moult, whether that's on the Waddensea or the Mersey. However, before 1996 the peak always occurred either in October or November whilst since 1996 the peak has been either in September or October. Obviously, the reason for the change is that most birds are now flying the very short distance from the Mersey to the Dee after they've finished their moult, rather than several hundred miles from Germany. Note also, the much higher numbers that we now have in August on the Dee estuary which suggests that a few thousand Shelduck moult here as well as on the Mersey, something which has been suspected for quite a while.

After the October peak birds disperse away from the Dee very quickly and by January counts are down to 1,000. The monthly distribution for the UK as a whole is quite different with a peak in mid-winter, usually in January, and this is presumably when all the birds which moulted on the Waddensea have returned to the UK. The movements of Shelduck are complex and by no means fully understand. The Ribble estuary, just to the north of us, typically has a peak of around 4,000 but over the past few years this peak has occurred in every month from June to February (only excepting August) - so I've no idea what to make of that! Ros Green (BTO), who has just started a PhD on Shelduck migration (and see Refs 3 and 4), said "I've got a feeling they do many more interesting things than most people realise".
One way to track these movements is by colour ringing and a lot of Shelducks have been colour-ringed in recent years, and on the Dee estuary we have 102 records of 35 colour-ringed Shelduck over the past three years. Prior to that there have been four recoveries of metal ringed birds (which demonstrates just how useful colour-ringing is), and the map below shows where else all these have been recorded.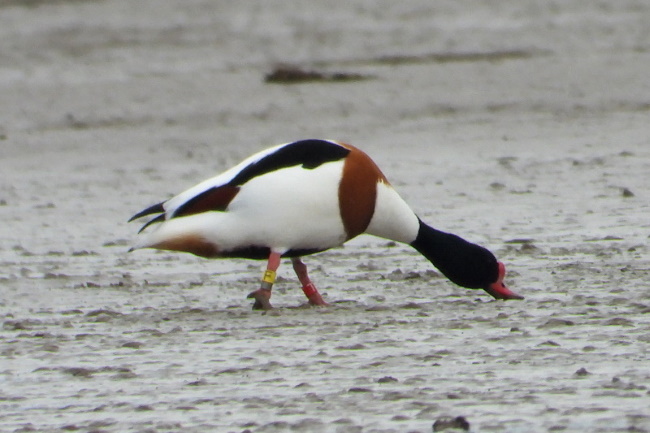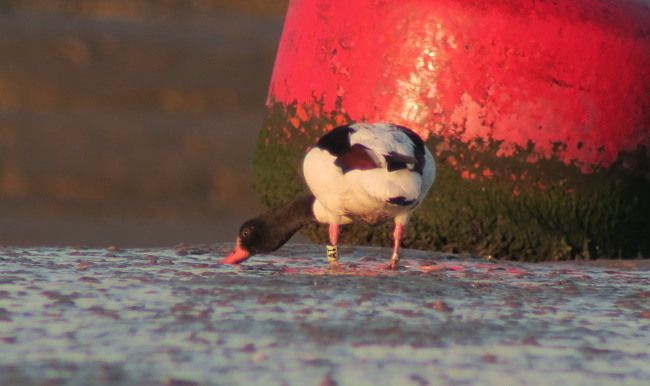 Sooty Shearwater off Australia © JJ Harrison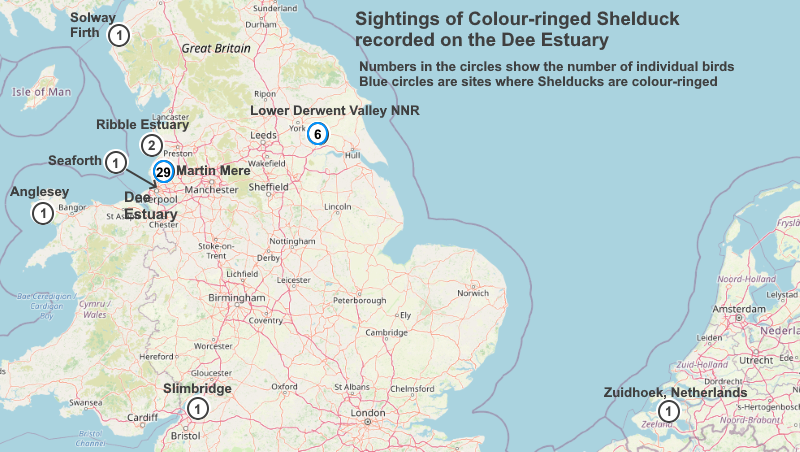 Notes:
1. Over 400 Shelduck have been colour-ringed since 2017 at Martin Mere and we saw our first one on the Dee estuary in March 2019. Most of these Martin Mere ringed birds are sighted on the Dee from late August through to early November, after which many spend the winter back at Martin Mere where they get plenty of free food put out for the wild swans and captive birds. Typical numbers through the winter at Martin Mere are around 500. About 30 pairs stay to breed there but most have dispersed elsewhere by the end of March, and it is April when we see one or two ringed birds back here on the Dee Estuary presumably to breed locally.

2. They have been colour ringing Shelduck in the Lower Derwent Valley NNR for over 10 years but we didn't see our first one on the Dee estuary until November 2019. As well as the six birds seen on the Dee estuary they have also have several other records of their birds in the north-west of England, so that's an interesting westwards movement. Like the Martin Mere birds we see these ones in autumn and spring. There is a sizable breeding population in the Derwent Valley of at least 60 pairs.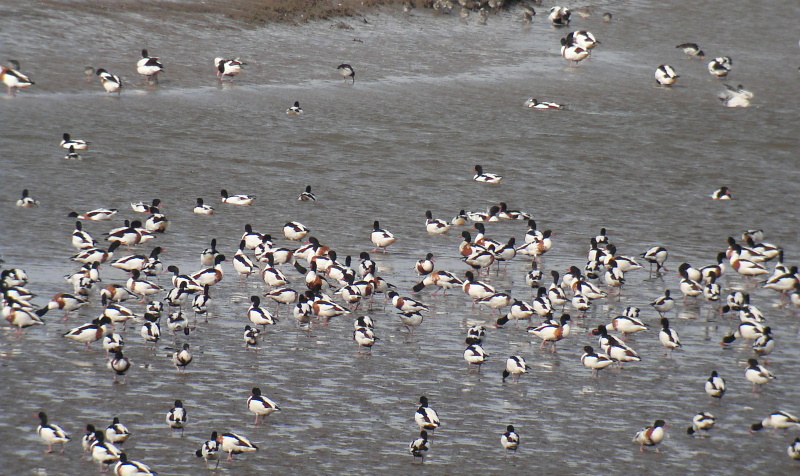 Sooty Shearwater off Australia © JJ Harrison
3. A bird ringed at Lower Derwent Valley in February 2018 was spotted at Thurstaston in November 2019, before finding it's way to Zuidhoek, just south of Rotterdam, in February 2021. As far as I can ascertain this is the first ringed Shelduck seen on the Dee estuary which has also been recorded abroad. February is also an interesting date for it to be in the Netherlands, has it been there since moulting on the Waddensea in August, or is it a bird that winters in the UK and breeds on the continent? These are the sort of questions that we hope colour ringing will eventually answer.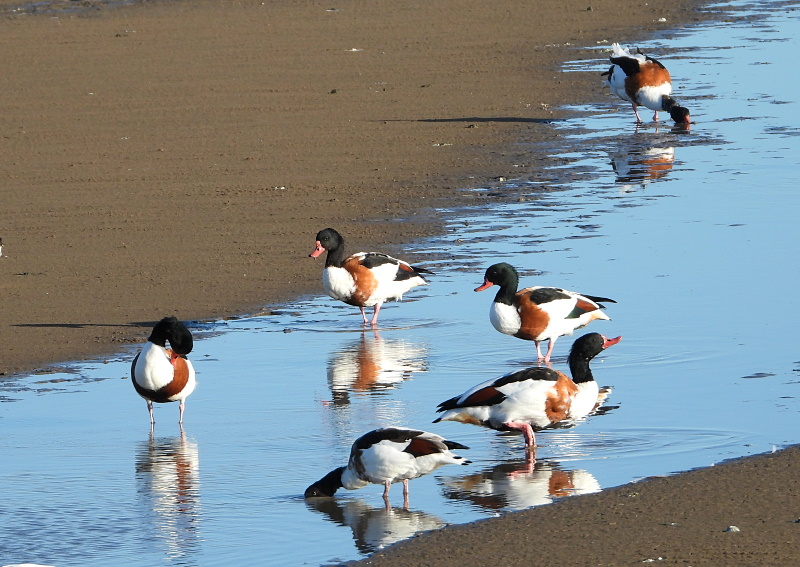 Sooty Shearwater off Australia © JJ Harrison
Where to see Shelduck on the Dee Estuary
Stand on top of Thurstaton cliffs at low tide anytime from late September to around mid-October. You will need a telescope to scan the vast Dawpool Bank in front of you but it will be covered in Shleduck, and at that time of year you will almost certainly be looking at the largest flock in the country. Also at that time of year Point of Ayr will have several hundred with high tide the best time to see them floating on the sea in the lagoon.

To get closer views take a walk at low tide anywhere between Heswall and West Kirby and there should always be a few feeding on the mud not too far from the beach. Sometimes you can get up to a hundred drinking from the stream at Tinker's Dell. In the spring you will see them paired up when they can be quite noisy and aggressive towards other pairs. In the spring they can also be inland on fresh water, particularly in March before nesting has seriously started. Then in May you could get lucky and see a family like in the photo at the top of this article.
By mid-October when the big flock at Thurstaston start to disperse you can get several hundred on the mud off Meols, and if you can get there early before the walkers disturb them you can get really good views of them close to the promenade. If the sun is shining you can take some great photos directly without having to set foot on the mud.

Sooty Shearwater off Australia © JJ Harrison
This article 'Contains Wetland Bird Survey (WeBS) data from Waterbirds in the UK 2019/20 © copyright and database right 2021. WeBS is a partnership jointly funded by the BTO, RSPB and JNCC, in association with WWT, with fieldwork conducted by volunteers.'
References
1. Cheshire and Wirral Bird Reports 1980 to 2019, CAWOS.

2. Neil Friswell & Colin E. Wells, Dee Estuary and North Wirral Foreshore WeBS Annual Reports 2009/2010 to 2019/2020.

3. Ros Green, A migration mystery, BTO News Spring 2021.

4. Ros Green et al., Review of the migratory movements of Shelduck to inform understanding of potential interactions with the offshore wind farms in the southern North Sea, BTO Research Report 718, 2019.
Richard Smith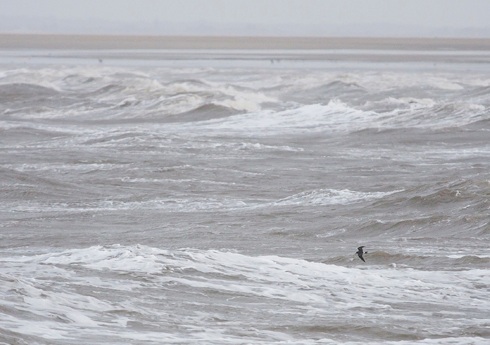 A Leach's passing Hilbre © Matt Thomas

Colour Ring Report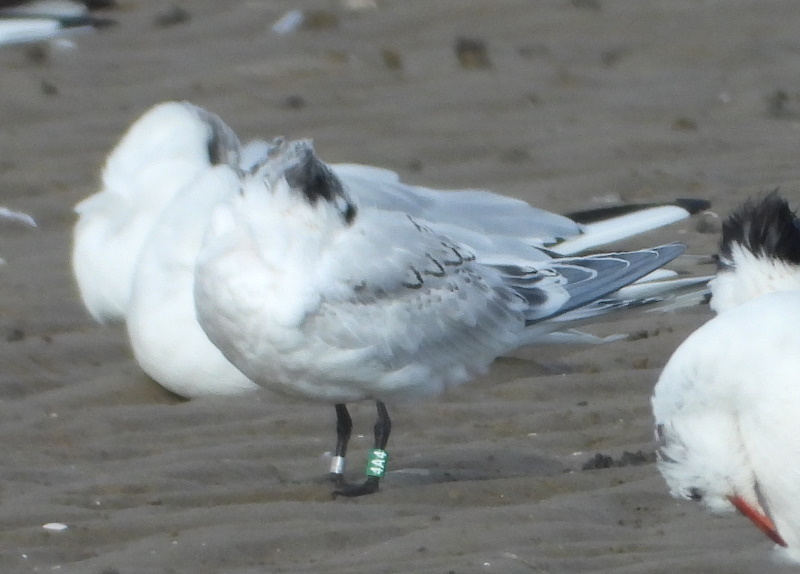 Juvenile Sandwich Tern Green 4A4 © Richard Smith
Ringed at Strangford Lough, Northern Ireland in June 2021, our first from that colony


Sandwich Terns
It's been a good couple of months for spotting colour ringed birds. We've had 68 records of 18 Black-tailed Godwits, plus several Mediterranean and Black-headed Gulls, a Lesser Black-backed Gull, a Dunlin, a Sanderling, a Cormorant, a Little Egret and two Shelduck. I shall detail some of these in the October Newsletter but for this newsletter I concentrate on Sandwich Terns of which we've recorded a total of 22 - easily our best ever year for this species, and the life histories of these Sandwich Terns show some really exciting recoveries including all the way down to the southern tip of Africa.
Rather than try and detail each of them I've drawn up a couple of maps so you can see where the birds recorded in the Dee Estuary this summer have been seen (and ringed) previously.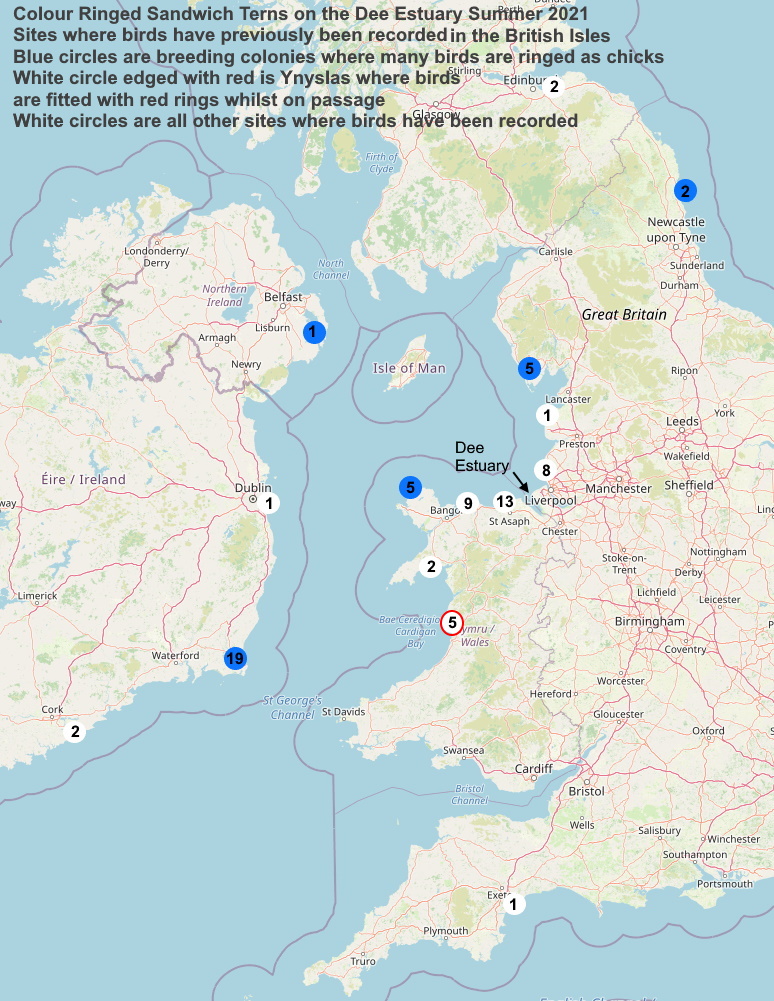 The maps tell a fascinating story, they obviously reflect the movements of the Sandwich Terns but also the amount of ringing and observer effort at any particular site. Here are some observations:
Many chicks at the Lady's Lake Reserve near Wexford, Ireland, are ringed every year and after breeding they disperse into through the Irish Sea, and colour ringed Sandwich Terns from this large colony are regularly recorded on the Dee Estuary and nearby sites along the North Wales coast and the Sefton Coast. The majority of our Sandwich Terns probably come from the nearby Cemlyn Bay (Anglesey) colony but they only started ringing them there in 2019 and it was good to see one of these at Hoylake in August (others were seen elsewhere). It was also good to see our first Northern Irish ringed Sandwich Tern, ringed as a chick this year, and this is a new scheme using green rings.

The birds don't always return to the colony they were hatched and one the birds seen this year was hatched at Wexford in 2015 but was recorded breeding in Cemlyn Bay this year, and another was hatched on Coquet Island in 2014 but again was breeding in Cemlyn Bay in 2021.
Although rarely seen on inland waters it has long been suspected that many Sandwich Terns cross the country, both before and after breeding, and colour ringing has proved they definitely do. But perhaps more unexpected is that, during post-breeding dispersal, they can head the 'wrong way' flying north-east from the Irish to the North Sea, before, presumably, flying back in the reverse direction!

The Dee Estuary along with the whole of the North Wales coast and, in particular, the extensive sand flats off Formby and Ainsdale is probably the most important area in the country for this species as a post-breeding loafing and feeding area, and a nursery for the young birds before they head south. There could well be as many as 10,000 Sandwich Terns present at times between Anglesey and the Ribble Estuary.

It's remarkable that for these 22 Sandwich Terns seen on the Dee Estuary this summer we have as many records from Namibia and South Africa as we have for Rhyl and Colwyn Bay just a few miles west of the Dee Estuary. In last year's article "Sandwich Terns" I speculated that a large proportion of the west-European population probably make it all the way to southern Africa and 13 records from 22 birds certainly seems to confirm that. The Namibia sightings all seem to come from Swakopmund, just north of Walvis Bay, whilst in South Africa there are several sites mostly just to the south of Cape Town. It's good that we have some keen birders down there to record and report these birds.

Richard Smith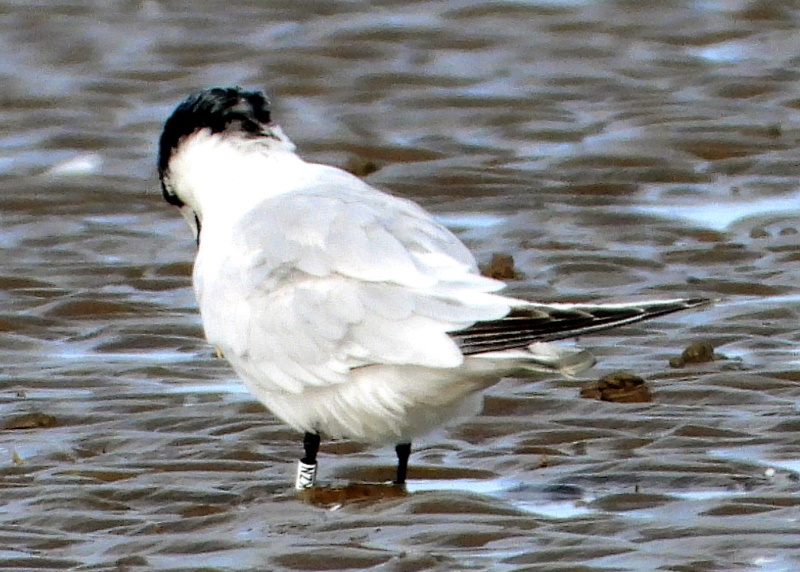 Sandwich Tern White KZN, at Hilbre on 15th August 2021 © Richard Smith
Ringed as a chick at Wexford in 2016 (and seen breeding there in 2020 and 2021) this bird has been
recorded in Namibia twice and at the Western Cape, South Africa, once.


Colour Rings were recorded by Richard Smith, Colin Schofield, Steve Hinde, Elliot Montieth, Alan Hitchmough and Steve Williams.


August Bird News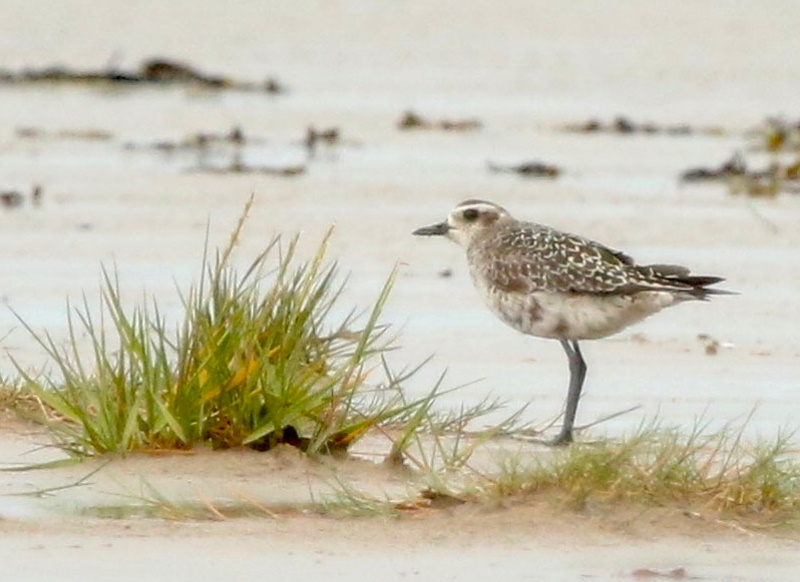 American Golden Plover, Hoylake shore, August 8th © Tim Kinch
well done to Tim who found this bird


A Pecoral Sandpiper at Burton Mere Wetlands early in the month was a nice find followed by a much rarer American Golden Plover on Hoylake Shore present on the 7th and 8th. This is the fourth record for the Dee Estuary and North Wirral, there was also a probable at Gronant in 2018. Given the calm weather at the time a Sooty Shearwater off East Hoyle Bank was unexpected on the 28th but arrived in time to be included in the above article on Pelagic Seabirds - the first one since 2017.
Other than the Sooty Shearwater sea watching was poor with just a couple of Arctic Skuas and a few Manxies and Gannets, but there was plenty to see on the beach. Sandwich Terns peaked early on in the month with 700 on East Hoyle Bank and there were lots of reports of Mediterranean Gulls including five at both Thurstaston and Leasowe. A juvenile Black Tern was at Hoylake on the 24th with a couple of Little Stints and a Curlew Sandpiper (seen on several dates), single curlew Sandpipers were also spotted at Hilbre and Parkgate. As well as around 3,000 Dunlin there were also a total of at least 1,200 Ringed Plover at Hoylake and West Kirby on the 22nd. Other waders included an impressive 5,700 Black-tailed Godwits at Caldy, 4,400 Redshank at Heswall and up to 25 Greenshank at Parkgate.
4 Spoonbills were recorded (one at Burton and three at Parkgate) on the marshes as well as several Marsh Harriers and a returning Hen Harrier and Short-eared Owl. We always see less Ospreys in the 'autumn' than in the spring and just the one was spotted over Heswall Fields. We know in spring the main flyway for them is over the western half of England, so perhaps they fly further east on the return journey.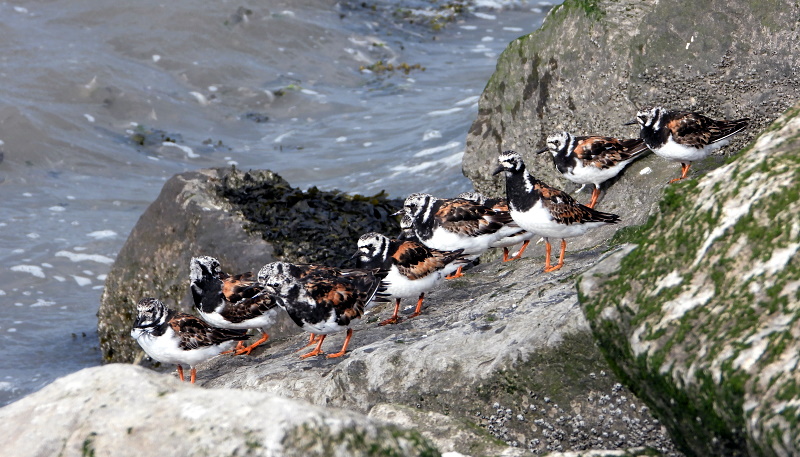 Turnstones on the edge of West Kirby Marine Lake, August 5th © Richard Smith
Looking stunning in breeding plumage, there were about 30 in total

Many thanks go to Steve Williams, David Haigh, Steve Hinde, Alan Hitchmough, Colin Schofield, Derek Bates, Allan Conlin, Richard Whitby, David Thompson, David Small, Bruce Atherton, Peter Sutton, Mark Gibson, Roy Wilson, John Hewitt, Mark Woodhead, Richard Speechley, Tim Kinch, Linda Platt, David Leeming, Colin Wells, Les Hall, Anthony Davies, Jeremy Bradshaw, Chris Wilding, Carole Killikelly, Charles Farnell, Dave Edwards, Elliot Montieth, Matt Francis, Neil Simpson, Andy Coxon, Paul Mason, Stephen Lane, Ken Mullins, Paul Greenslade, David Shearan, Frank Burns, David Bradshaw, Bill Wonderley, John Missin, Roger Evans, Tommy Mundy, Andrew Ingham, Tony Hesseion, Steve Hasell, Hugh Stewart, Steve Liston, Eugene Dillon-Hooper, Sheila Ryde, John Rowlands, Marc Gannon, the Dee Estuary Wardens and the Hilbre Bird Observatory for their sightings during August. All sightings are gratefully received.

What to expect in September

September is a special month, it's also one of the most unpredictable. It can be flat calm all month with nothing more than a gently breeze, or at the other extreme we can get gale after gale. Gales are what we need to see lots of sea birds with Leach's Petrels the star of the show as described in the article above (Pelagic Seabirds in Liverpool Bay). It was 2010 since we had really large numbers of them and just reading my article (Leach's Petrels 2010) I see we had as many as 524 recorded from Hilbre on Sep 17th that year, fabulous! So we are well overdue for another good year. But that doesn't mean to say that we haven't had some great September sea-watching since then - 2017 was good with plenty of Leach's but that year was particularly notable for Grey Phalarope with a total of at least 19, easily the highest number this century. 2019 was the year we saw loads of skuas with the highest ever recorded count of 101 Arctic Skuas on Sep 4th.
But if we do get calm weather at least we can feast our eyes on all the waders coming through with Curlew Sandpipers and Little Stints ones to particularly look out for. By the end of the month Pink-footed Geese will be returning, a sign of the coming winter, and we should see some large flocks flying over. We can also get good numbers of ducks returning, some years numbers of both Teal and Shelduck can peak this month.

Marsh Harriers have had a good breeding season here and their winter roost will start to build; we are likely to get counts in double figures of birds flying into the reed beds in the evening at Neston and Parkgate. It should also be a good month for 'white herons' with plenty of Cattle Egrets, Great Egrets and Spoonbills, as well as Little Egrets which are just about everywhere these days.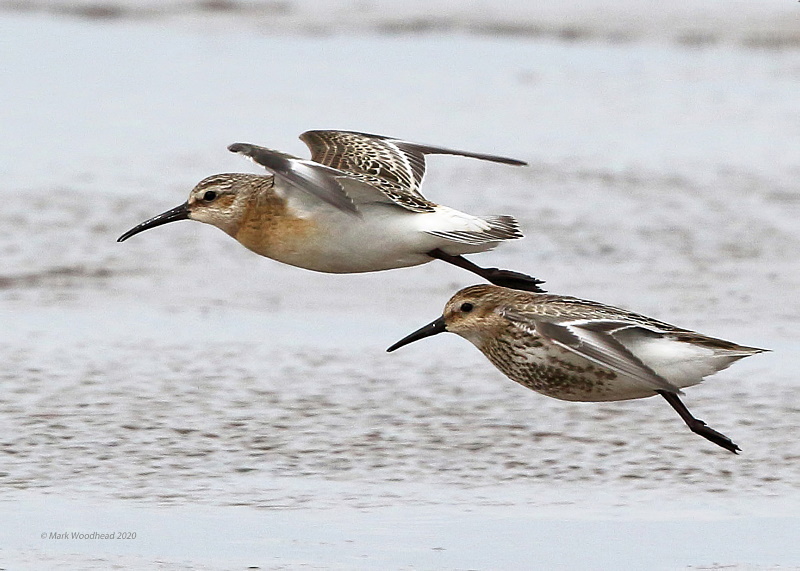 Dunlin and Curlew Sandpiper at Hoylake in September 2020 © Mark Woodhead

Forthcoming Events
September Highest Spring Tides (Liverpool)
Also see Tides page.
8th September, 12.51hrs (BST), 9.5m.
9th September, 13.28hrs (BST), 9.6m.
10th September, 13.07hrs (BST), 9.5m.
Forthcoming Events
None are planned for this month.