Bird migration is the one truly unifying natural phenomenon in the world, stitching the continents together in a way that even the great weather systems, which roar out from the poles but fizzle at the equator, fail to do. It is an enormously complex subject, perhaps the most compelling drama in all of natural history. Scott Weidensaul

It is possible to write a short description of bird migration that will read as if the subject is completely understood, but this is true only in generalities. Only when there is space for details can it be appreciated that underneath this apparent certainty, there is a labyrinth of unresolved problems for researchers to tackle. Robert Burton

'Welcome to the world of wader research' I thought as both my feet and tripod sank six inches into thick estuarine mud, but despite the mud I was actually enjoying myself as I was Among Knots. There have been many wonderful experiences this winter with Knots but two stand out - the day I was sinking into the mud when several hundred birds were walking towards me, busy feeding, completely unfazed by my presence and I was so close I could almost touch them. The other was when 20,000 Knot were roosting in the channel off Tinker's Dell when a Peregrine flew by, it was a still day and the noise 40,000 wings made was just unbelievable. That day they didn't just disappear into the distance and many just hovered over the channel and I saw the peregrine fly right through the flock three times without catching anything, presumably the sheer number confusing it. Wonderful!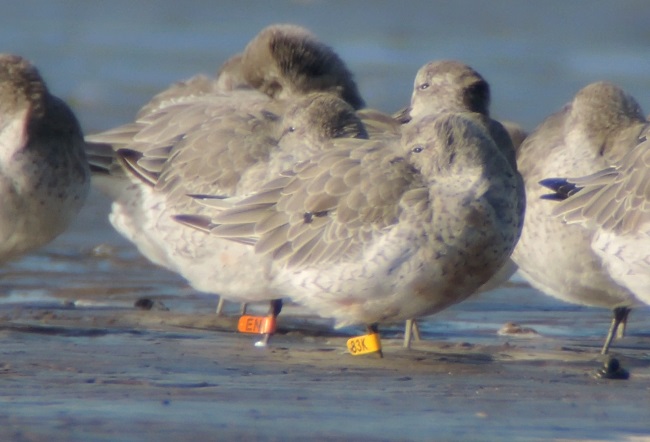 Orange flagged Knot on left (ringed at Altcar), Yellow flagged Knot on right (ringed in SW Iceland)
© Peter Knight

Following a big ringing effort in 2017 in Iceland and the Waddensee, and locally at Altcar on the Sefton coast, many hours have been spent logging these colour-ringed birds as part of the study into this species, specially those that visit the Ribble and Dee estuaries. It is no exaggeration to say that this winter has seen the most productive work ever on Knot in the UK. You may think hundreds of volunteers have been involved in this work but we are just a handful of mad enthusiasts with well over 90% of the records collected by just myself and Steve Hinde here on the Dee Estuary, Peter Knight and Rose Maciewicz on the Sefton coast from Southport to Crosby, and Ed Keeble in Suffolk*. All this is eclipsed by Benjamin Gnep who spent from 25th July to 15th October 2017 on the lonely island of Griend in the Waddensee (Netherlands) where over 100,000 Knot undergo moult. As Peter said when talking about Benjamin "there aren't many people like him who would happily spend all day every day for months on a deserted sandbank reading Knot rings – apart from us, that is!". During his 2017 stint Benjamin recorded 1,438 different colour-ringed Knots, many of which we've subsequently seen here in the north-west of England.
*which isn't to say other people haven't been collecting records and on the Dee estuary these include Matt Thomas, Richard de Feu, Allan Hitchmough and Paul Ralston, and I know birders from Ireland, Morecambe Bay and NE Scotland have also sent records in.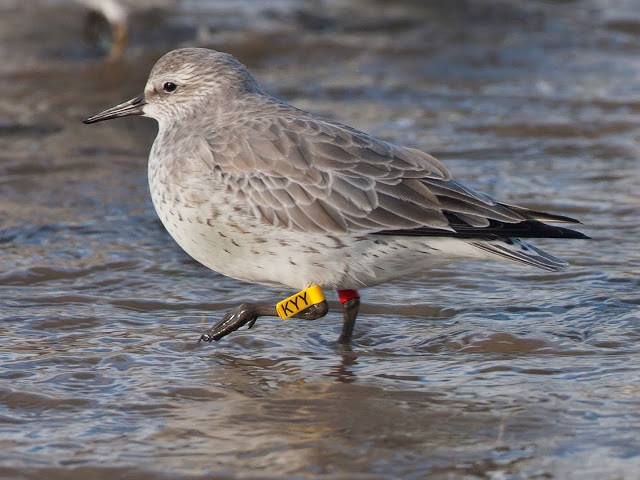 Here on the Dee estuary we've been involved in wader research, in the form of logging colour-ringed birds, for well over 10 years but with Knot only at the periphery as we rarely make it into double figures each year. Seven colour-ringed birds in the winter of 2016/17 was fairly typical and numbers of Knot on the estuary that winter, and the previous winter, were disappointingly low, so we weren't expecting anything different this winter - but we were wrong! There have been a lot of Knot around starting with an inland roost, a very unusual event in itself, at Caldy where they were present for several weeks in the autumn, then the winter brought over 20,000 Knot to Thurstaston where we have monitored them both roosting and feeding. The increase in the number of colour-ringed Knot, their location on the estuary close to the shore (and inland at Caldy) together with a big increase in observer effort has resulted in a huge jump in colour-ring sightings. Being able to follow individual birds, almost on a daily basis, is vitally important in our efforts to understand the movements and requirements of these birds.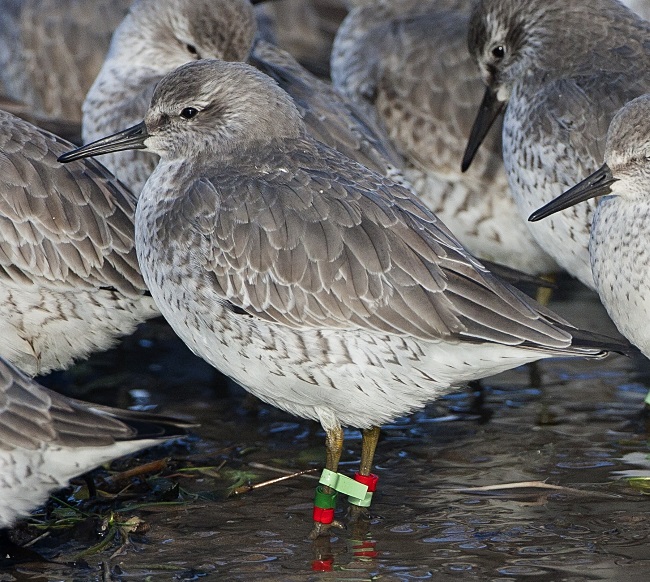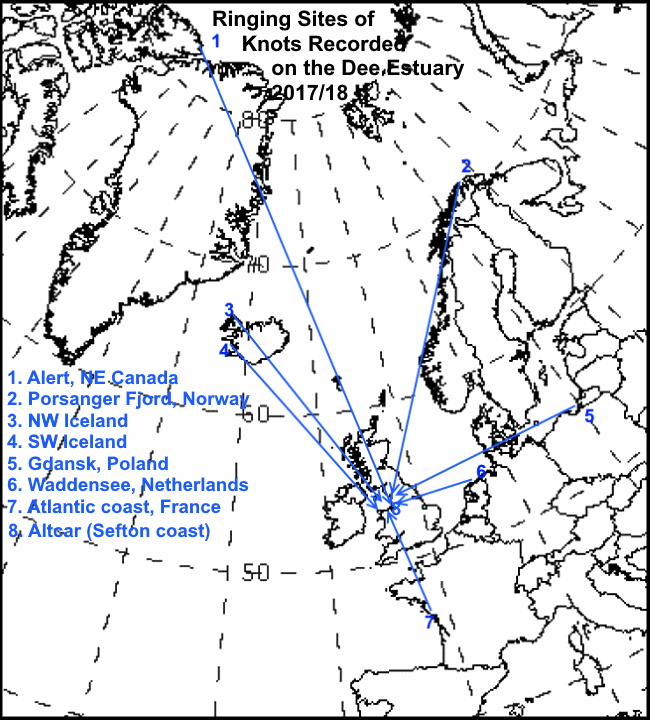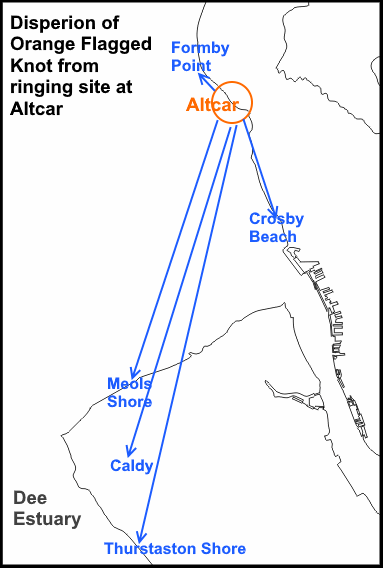 The maps show where the birds we have recorded where ringed, with various different ringing schemes, and below are some figures:
Knot on the Dee Estuary September 2017 to Jan 2018
Total number of Observations of colour-ringed birds:
866
Individuals with Orange flags (ringed at Altcar Sep 2017):
270
Individuals with Yellow flags (ringed in SW Iceland May 2017):
30
Individuals with Yellow flags (ringed in NW Iceland May 2014):
2
Individuals with Yellow flags (ringed in N Norway):
4
Individuals ringed on the Waddensee, Netherlands:
33
Individuals ringed in Poland:
1
Individuals ringed in France:
1
Individuals ringed in NE Canada:
1
Of the 519 birds ringed with an Orange flag at Altcar on September 22nd 2017 we have now recorded over 50% of them on the Dee estuary, 54% have also been recorded at Formby and Crosby with a total of 385 seen since September; this is a remarkable recovery rate considering these birds were ringed just five months ago. The only birds reported away from the area are just a handful at Morecambe Bay to the north and the east coast of Ireland to the south-west, with just one away from the Irish Sea in NE Scotland, so there has been hardly any dispersal through the winter other than to the Dee Estuary.
The interesting question now is what will these birds do in the spring? Previous experience suggests that the over-wintering flock effectively splits with some heading back east to the Waddensee whilst others first head north to the Ribble estuary in April before flying to Iceland in May where they moult into breeding plumage. They will be watched along the way and for the first time we should get a clear idea of the spring movements of 'our' Dee estuary birds, then we look forward to their return after the breeding season!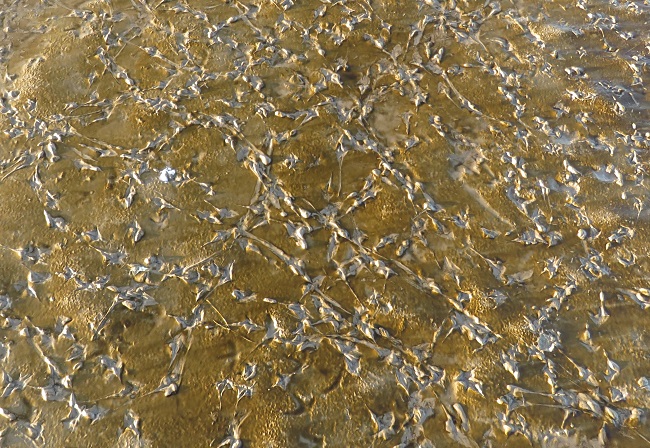 A Knot flock passed this way! Marks in the mud where Knots have been feeding © Richard Smith
Acknowledgements:
1. You will see below reference to Benjamin Gnep's ring reading report titled 'Among Knots'. I loved the title so much I unashamedly used it for my article, but I'm sure Benjamin won't mind!
2. As well as the fellow colour-ring readers mentioned in the article acknowledgement and many thanks must go to all those ringers who ringed these birds in the first place. I know many ringing sessions in Iceland and Norway in particular were carried out in near freezing conditions over several hours and under much pressure as the birds can only be held captive for a limited time.
3. Thanks in particular must go to Jim Wilson who has organised much of this colour ringing activity and has been studying Knots for many years, he is collating all the data for the Altcar, Iceland and Norwegian ringed birds. He started ringing waders back in the 1960s on the Dee Estuary with the Merseyside Ringing Group. Jim is currently the Colour Ring Coordinator for waders in Europe.
4. The other major player in colour ringing Knots is the shorebird group of the Royal Dutch Institute for Sea Research (NIOZ) who have been ringing Knots since 1998. Up to November 2017 a total of 8,270 have been colour ringed on the Dutch Waddensea, 3,330 in Mauritania, 133 in the German Waddensea, 645 on the Atlantic coast of France and 21 in Portugal.
References and Further Reading:
1. Benjamin Gnep, 'Among Knots', Report about the results of two ring-reading seasons in autumn 2016 and 2017, Royal Dutch Institute for Sea Research, November 2017.

Jim Wilson has co-authored many papers on Knot migration and he was involved in the discovery that the Knot which stage in Northern Norway in May were not, as had been assumed, on their way to Siberia but instead flew west across the northern Atlantic to Greenland and eastern Canada to join the larger numbers which migrate through Iceland. Here are two articles:
2. Davidson, N.C. & J.R. Wilson. 1992. The migration system of European-wintering Knots Calidris canutus islandica. Wader Study Group Bulletin 64(Suppl.): 39–51.

3. Wilson, J.R. & P.S. Tomkovich. 2017. Spring migration of Red Knot Calidris canutus subspecies through N Europe. Wader Study 124(2): 125–133.
Recent work by NIOZ has shown that many Knot, including juveniles, fly from eastern Canada and Greenland straight to NW Europe after the breeding season rather than staging in Iceland:
4. Dietz, M.W. et.al, Do Red Knots (Calidris Canutus Islandica) Routinely Skip Iceland During Southward Migration?, The Condor 112(1):48-55, 2010.
5. In the winter of 2015/16 a Knot (given the name of 'Paula') was tagged with a satellite transmitter on the Waddensea, and has now been followed twice to NE Canada and back. Click on the link below to download a PDF file which describes the project and includes maps:
Eva M.K. Kok, Paula 2.0: Second migratory track of red knot, 2017.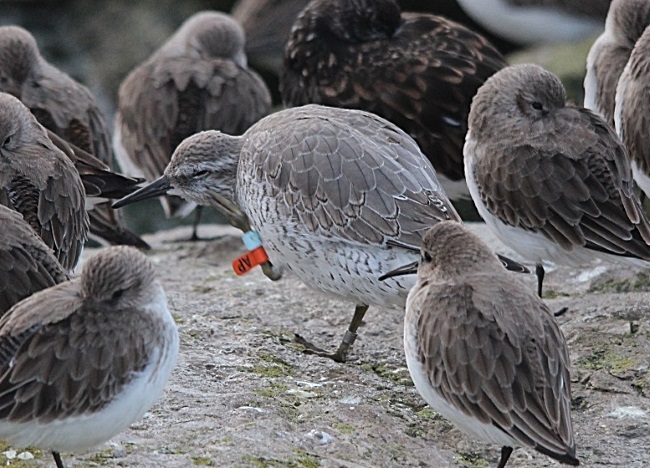 Orange flag AP over a pale blue ring at West Kirby Marine Lake © Paul Ralston
Richard Smith
Top of Page
January Bird News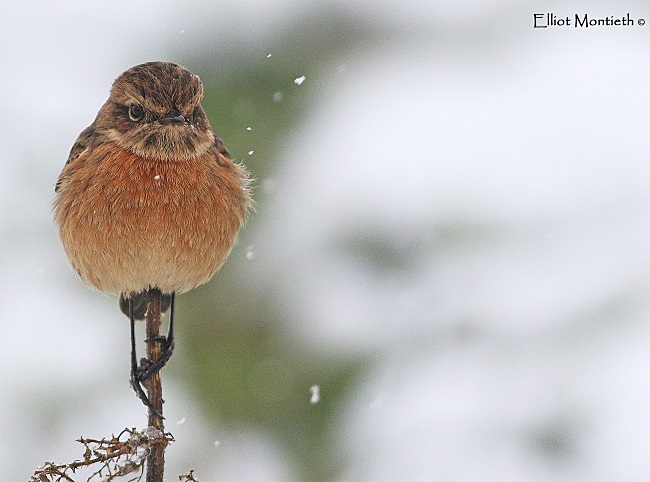 Wildfowl were in the news with a record count, for Hilbre, of 360 Brent Geese towards the end of the month (highest count for the estuary as a whole was set last winter with 402). Two Goosanders were on West Kirby Marine Lake for several days, perhaps the same ones as last winter? Nine Greenland White-fronted Geese were on Warren Farm Fields at Talacre for several days and the Eider flock at Hilbre had reduced from 10 to five.
After two winters of very low numbers it is good to see large flocks of Knot on the estuary, probably at least 30,000 for the whole estuary including a regular roosting flock just off Thurstaston Beach of over 20,000 - the noise these make on a still day when flushed by the tide is just astonishing. Strong winds during high spring tides resulted in 12 Purple Sandpipers on the pontoon on New Brighton Marine Lake, flushed from the rocks by the waves. A Little Stint and a late Avocet were at Burton Mere Wetlands.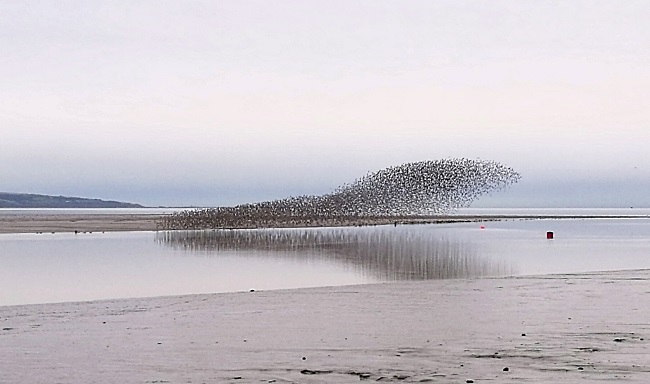 Marsh Harriers feature in the main article, above, and max counts were both at the Neston Reed Bed roost with 12 on the 2nd and 14 on the 11th. Two Grey male Hen Harriers are still around although I'm not sure how many ring tails there are - probably two or three. Disappointingly, the high tides didn't produce any Short-eared Owls at Heswall but there were plenty at Burton and Neston with at least 10 on the 18th. A Bittern was flushed by a Marsh Harrier at Parkgate early in the month.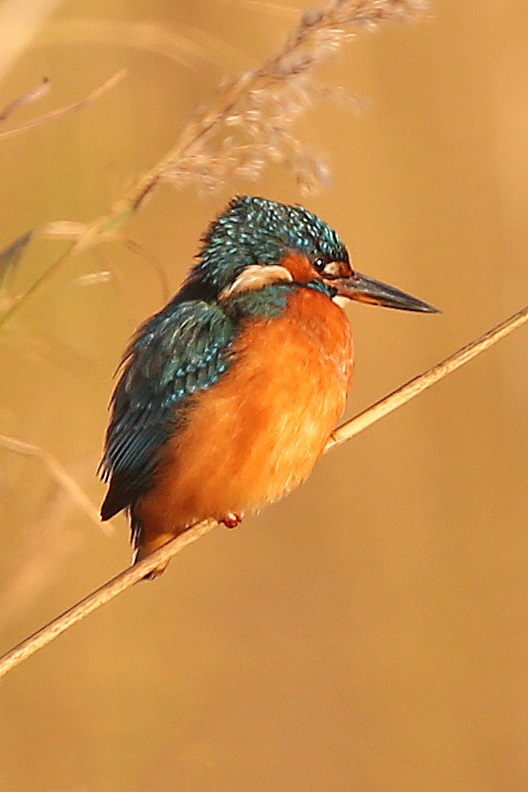 Kingfisher at Burton Mere Wetlands, December 1st © Roy Lowry

There were several reports of single Kingfishers including this one above, making for a splendid photograph. Other notable birds were two Snow Buntings at Leasowe Bay, a Black Redstart at Hoylake and an Iceland Gull at Burton Mere Wetlands.
Many thanks go to Mark Woodhead, David Haigh, Steve Hinde, Jeremy Bradshaw, Matt Thomas, Chris Butterworth, Roy Lowry, Elliot Monieth, Paul Shenton, David Leeming, Alan Hitchmough, Steve Williams, Les Hall, Jeff Cohen, Dave Edwards, Derek Bates, Eddie Williams, Allan Conlin, Karen Leeming, Geoff Robinson, Julie Rogers, Colin Schofield, Charles Farnell, Paul Ralston, Alan Irving, Sheila Ryde, Eric Burrows, Ryan Williams, Frank Burns, Gail Wilson, John Wright, Ian Fleming, Carole Killikelly, Ian Galt, Richard du Feu, Mal Hawkins, Tim Kinch, Phil Boardman, Julia Neal, Dave Harrington, Nicholas Montieth, Lauren Witter, Sean O'Hara, David Thompson, David Saunders, Stan Davidson, Pamela Davis, Richard Whitby, Steve Hart, Phillipa Skinner, Janet Vickers, Paul Vautrinot, Paul Corns, Peter Atherton, Hugh Stewart, the
Lighthouse and Wirral Birding Blog
, the
Dee Estuary Wardens
and the
Hilbre Bird Observatory
for their sightings during December. All sightings are gratefully received.
Top of Page
What to expect in February
There are some big tides early in the month which, given a nice strong westerly to push the sea over the marsh, should bring spectacular views of Short-eared Owls, Marsh Harriers and Hen Harriers as well as thousands of geese, ducks and waders.
Wader numbers will still be high and last year we had an early pasage of several thousand Dunlins coming through with some amazing views of them on the rocks at West Kirby Marine Lake. There should also be many thousands of Knots, Grey Plover and Oystercatchers at the main high tide roost sites of Point of Ayr, West Kirby and Hoylake. Some years February brings a massive influx of gulls with Hilbre and north Wirral holding as many as 20,000 - mainly Herring Gulls but holding rarer species such as Caspian Gulls.
Out to sea we can get huge numbers of Scoters out in Liverpool Bay as they are on their way north after spending the winter further south - perhaps off West Africa but nobody really knows. Also a calm day will mean we can get a good count of the wintering flock of Great Crested Grebes, one of the biggest in the country with 800+.
There will be mild days when there will be signs of spring with birdsong and drumming woodpeckers in the woods, it is not unknown for the first spring migrant to turn up before the end of the month - perhaps a very early Sand Martin.
Dunlins at West Kirby, February 2017 © Roy Lowry
Top of Page
Forthcoming Events
February Highest Spring Tides (Liverpool)
Also see Tides page.

1st February, 11.35hrs (GMT), 9.9m.
2nd February, 12.21hrs (GMT), 10.0m.
3rd February, 13.06hrs (GMT), 9.9m.
Forthcoming Events
Organised by the Wirral Ranger Service , Flintshire Countryside Service and the RSPB (Dee Estuary):
All these events and walks have bird interest, even those not advertised specifically for birdwatching. No need to book for these events unless specified - please check below.
Friday 2nd February and Saturday 3rd February , High Tide Raptor Watch at Parkgate.
10.30am to 1.30pm.
Free.
For further details ring 0151 353 8478.
Come along to the car park at the Old Baths for the chance of seeing a range of birds of prey hunting over Parkgate Marsh. Hen and marsh harriers, peregrines and merlins all spend the winter months on the estuary and this is one of the best places to watch them, plus short-eared owls if we're really lucky. January's big tides were helped by Storm Eleanor but the tide reached the seawall and gave brilliant views of these hunting raptors, plus plus hard-to-find birds like water rails, rock pipits and lots of small mammals fleeing.
These biggest tides in February offer the same spectacle, so why not venture out to try witness all the drama. Low pressure and a westerly wind will help push the tide and wildlife in close. There's also chance of seeing the great range of ducks, geese, wading birds and egrets in big numbers as they are pushed upstream by the rising tide.
There is free public parking at the Old Baths car park (CH64 6RN) at the north end of The Parade, and the Wirral Country Park car park on Station Road (CH64 6QJ). There are public toilets at Mostyn Square in the middle of The Parade, and a number of pubs and cafes.
Tide times: Friday 2 February, 10.0m at 12.21pm; Saturday 3 February, 9.9m at 1.06pm.
Saturday 17th February, Hoylake High Tide Birdwatch.
10.30am-12.30pm
Price: Free
Join the Coastal Rangers, the Dee Estuary Voluntary Wardens and the RSPB on this high tide birdwatch at Hoylake promenade to see large flocks of wading birds as they gather and roost on the shore. We should see dunlin and knot numbers at their peak as we reach the end of winter, plus a range of other wading birds for whom this North Wirral coastline is a vitally important home. With a rising tide, we should see the birds at close quarters as they roost and feed.
Beginners welcome - a great opportunity to brush up on your wader ID with knowledgeable guides. Dress warmly and bring binoculars if you have them. Telescopes will be available to use throughout. No need to book.
Look for the white RSPB information trailer on King's Parade, Hoylake between the bottom of King's Gap and Trinity Road. There are public toilets nearby and various cafes and pubs for refreshments in Hoylake.
High Tide at 11.55am.
Saturday 3rd March and Sunday 4th March , High Tide Raptor Watch at Parkgate.
10.30am to 1.30pm.
Free.
For further details ring 0151 353 8478.
Come along to the car park at the Old Baths for the chance of seeing a range of birds of prey hunting over Parkgate Marsh. Hen and marsh harriers, peregrines and merlins all spend the winter months on the estuary and this is one of the best places to watch them, plus short-eared owls if we're really lucky. January's big tides were helped by Storm Eleanor but the tide reached the seawall and gave brilliant views of these hunting raptors, plus hard-to-find birds like water rails, rock pipits and lots of small mammals fleeing.
These biggest tides in February offer the same spectacle, so why not venture out to try witness all the drama. Low pressure and a westerly wind will help push the tide and wildlife in close. There's also chance of seeing the great range of ducks, geese, wading birds and egrets in big numbers as they are pushed upstream by the rising tide.
There is free public parking at the Old Baths car park (CH64 6RN) at the north end of The Parade, and the Wirral Country Park car park on Station Road (CH64 6QJ). There are public toilets at Mostyn Square in the middle of The Parade, and a number of pubs and cafes.
Tide times: Saturday 3 March, 10.0m at 12.03pm; Sunday 4 March 9.9m at 12.44pm