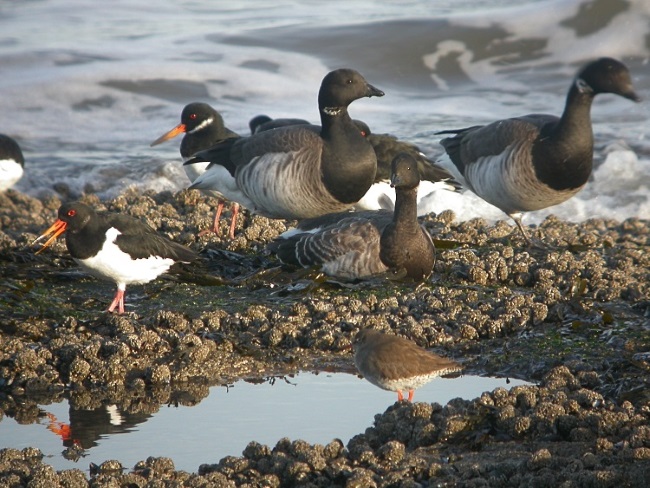 Wetland birds on Hilbre © Richard Smith


It was a cold day on December 13th 1981 when the Wetland Bird Survey team crossed the Manchester Ship Canal on the little ferry to Stanlow Point to be met by the astonishing sight of a minimum of 35,000 Teal in Stanlow Bay, driven there by the icy weather further inland. That count was by far the highest in the country that winter, the second highest being 6,000 at nearby Martin Mere, and remained the highest ever Teal count in the United Kingdom until 45,884 on the Somerset Levels in February 2011. Remarkably, only two other sites have ever had WeBS counts in five figures - Lower Derwent Ings in February 2017 with 10,000, and here on the Dee Estuary with 10,715 in December 1991.

Common Teal, more properly known as Eurasian Teal (Anas crecca) but to most people just as 'Teal', is our smallest duck species and one of the most colourful. They are very numerous, second only to Mallard, right across Europe and Asia with the even more numerous and closely related Green-winged Teal replacing them in North America.
graph UK
Teal are very much a success story and the graph shows the WeBS index reached it's highest ever level in 2016/17. With many Teal using small water bodies which are not counted during WeBS total numbers are difficult to estimate, but an article in the Journal of Conservation in 2015 put it at 388,000, a massive 84% increase on the estimate made in 2011 (which was probably an underestimate!). They have taken advantage of the restoration of wetlands, both in the UK and elsewhere in north-west Europe, including the many reserves on the Somerset Levels which is now easily the most important site in the UK with a current five year average of 21,918.
For many years the Mersey Estuary, then the Mersey and Dee combined were the most important for Teal in the country, up until around 2004. The graph shows the astonishing peak on the Mersey in the early 1980s with numbers above 20,000 for three winters. Since then counts on the Mersey were typically double that on the Dee Estuary, up until 2004 when a sharp decline set in. This decline continued on the Mersey and max numbers in the winter of 2016/17 was a very disappointing 1,924, resulting in the five year running average dropping below that of the Dee estuary for the first time. The reasons behind this huge fluctuation in numbers on the Mersey are not known, there has been no obvious change of habitat and no change in the amount of disturbance which has always been low here. Perhaps it's more of a case of what has changed elsewhere with a big increase in wetland reserves around the country.
Meanwhile, on the Dee Estuary numbers were very low in the 1970s, presumably due to over-shooting. The increased presence of the RSPB on the estuary coincided with a sharp increase in Teal through the 1980s peaking at 10,715 in 1991. Numbers have dropped since but more recently have shown a welcome increase.
The graph shows the monthly distribution on the Dee Estuary through three different winters when numbers were high, and it demonstrates how much each winter can differ. The annual peaks across the country are nearly always in December or January and it's interesting that the Dee Estuary highest count in 1991 was in December, as were most of the very high counts on the Mersey, and those currently on the Somerset Levels. 2000/01 shows a very different distribution as January was very cold and it appears the Teal probably fled west to Ireland, a milder February resulted in a late peak that winter as the birds returned here. But 2015/16 shows what seems to be a more recent trend with the annual peak occurring in autumn. The recently enlarged RSPB reserve at Burton (now Burton Mere Wetlands and previously know as Inner Marsh Farm) has attracted many thousands and has played a large part in this autumn increase, but so has the long established RSPB Oakenholt Marsh between Connah's Quay and Flint. Below I tabulate some of the highest counts at these two sites over the past few years.
Teal are well known for their mass movments when they react to droughts, floods, food availability and cold weather, and this is why numbers vary so much from winter to winter. Many thousands have been ringed over the years, and because they are aquarry species they have a high recovery rate. Many birds have been ringed lovally and I quote from the CAWOS Breeding and Wintering Atlas:
Thanks to the work of Merseyside Ringing Group, mainly Rob Cockbain at Hale Duck Decoy, we have a very good picture of the origins of our wintering Teal, which arrive here in autumn from late August onwards, from breeding grounds to the north-east, especially in Finland and northern Russia as far east as the Pechora River..... If driven by frost, some Teal move to Ireland, with smaller numbers to France; this is the opposite of the picture for southern England, where almost all hard-weather movments are across the Channel. Similarly, few of the birds ringed in Cheshire have wintered further south in later years, again contrary to national figures, and there is clearly a north-south divide in the habits of this species.
Refs
1 WeBS
Teal article in WeBS
2 CAWOS Atlas
3. Article
4. CQ Reports
5. deeestuary
Waterbird pop estimates

Barnacle Geese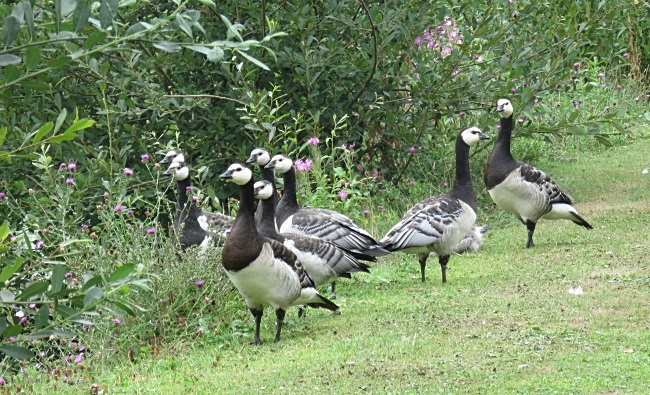 Feral Barnacle Geese family at Caldy © Richard Smith

On the Dee Estuary there is a small resident population of Barnacle Geese which breed at Caldy Wildfowl Collection, usually around 12 birds. But occasionally we get ones and twos, or even small flocks, elsewhere on the estuary and in the winter of 2016/17 between 22 and 40 were regular at Connah's Quay Reserve and nearby sites. A long time ago, and we are talking about 150 years here, the Dee Estuary was known for it's wintering Barnacle Geese. So are these birds we are currently seeing the long awaited return of wild birds? Sadly the answer seems that it is very unlikely.
Up until some recent work, reported in the 2016-17 WeBS Report, we thought there was a real possibility that some birds were wild as there was an increasing number of Barnacle Geese wintering on the Dyfi Estuary, not too far from the Dee.
I quote from the article Where do the Dyfi Barnacle Geese breed?:
"The Dyfi Estuary in mid-Wales is known as a long-standing haunt of the Greenland White-fronted Goose. From the 1990s Barnacle Geese began over-wintering at the Dyfi. It seemed likely that this flock were from the Greenland population of Barnacle Goose, and had followed White-fronted Geese to the site."
With numbers rising to between 300 and 400 on the Dyfi over the past few winters, and approaching the Nationally Important Threshold, it was decided to try and determine the origin of these birds through colour ringing. It soon became clear that these birds were feral and bred in the Lake District. As well as spotting ringed birds there was also good correlation of numbers between the two sites, and of departure and arrival times. Perhaps a disappointing outcome but still a fascinating migration, if somewhat shorter than flying from Greenland to Islay. As well as these birds there are feral Barnacle Geese both breeding and wintering in nearby Lancashire, probably at least 100 birds, and it seems likely that some of these wander south to the Dee Estuary. So the conclusion from all this is that any Barnacle Goose seen in our area is almost certainly from the feral population.

Waders
Given the high wildfowl numbers it's something of a surprise that wader numbers were relatively low. But Oystercatchers bounced back to close to the five year average, with 20,857, after very low counts the previous year. At 11,158 Lapwing numbers were the highest since 1994. Knot numbers were disappointing with a max of only 8,481* but nationally Knot counts have been fairly steady and for 2016/17 include a remarkable 205,161 counted on the Wash in October 2016, a record high for that site.
* Knot numbers for the Dee high tide WeBS counts do tend to be under estimated mainly due to disturbance at high tide roosts, particularly Hoylake. It doesn't help that counts take place on a Sunday when the beaches are busy with people.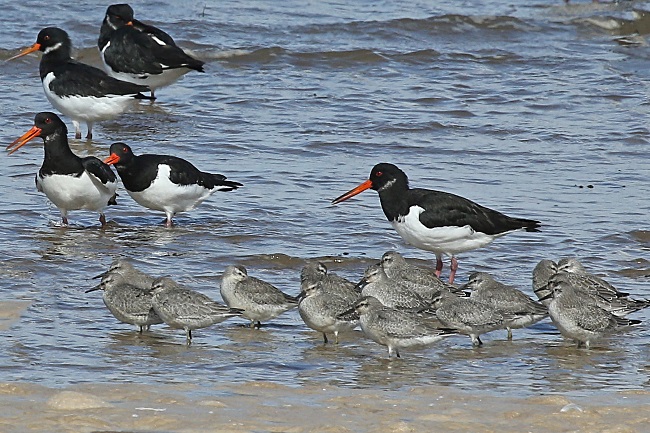 Knots and Oystercatchers at Hoylake, September 2018 © Roy Lowry
References
1.Wetland Bird Survey Annual Report (2016/17) - available on-line:
http://www.bto.org/volunteer-surveys/webs/publications/webs-annual-report
(also historical data from the same source).
2. Dee Estuary and North Wirral Foreshore WeBS Annual Report 2016/2017, compiled by Neil Friswell and approved by Colin E. Wells (Dee Estuary WeBS Coordinator).
3. Glen Morris, Deeside Naturalists Society Bird Reports, 2016 and 2017 (Available on-line at
http://www.deenats.org.uk/index.html).
Richard Smith.
Top of Page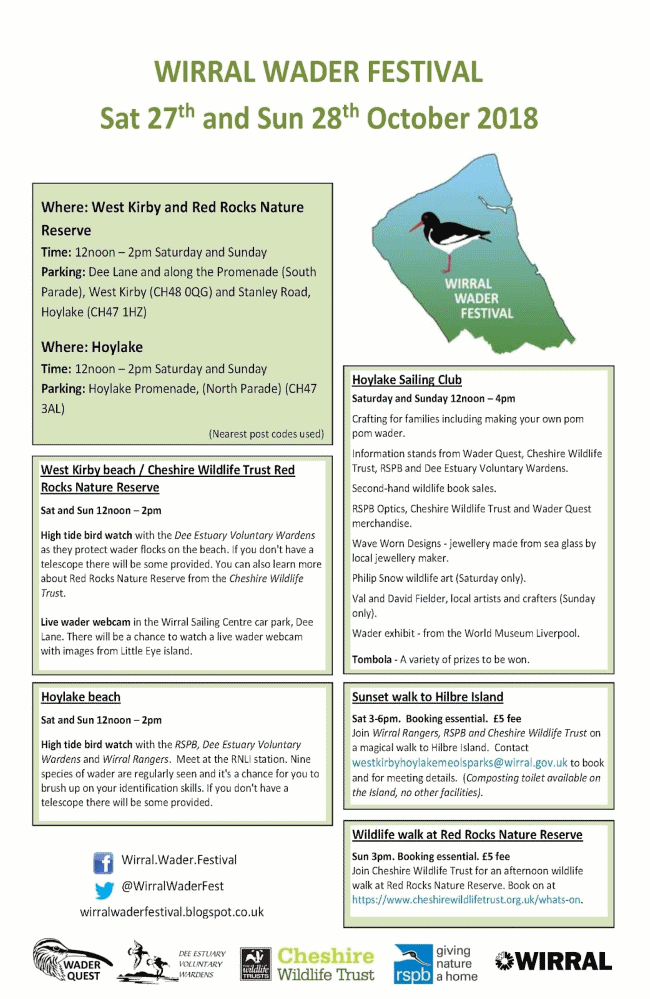 Click links here:
For Sunset walk to Hilbre -
westkirbyhoylakemeolsparks@wirral.gov.uk
For Wildlife walk at Red Rocks -
www.cheshirewildlifetrust.org.uk/events/2018-10-28-red-rocks-afternoon-walk-wirral-wader-festival
For latest News on the Wirral Wader Festival -
wirralwaderfestival.blogspot.com/
Top of Page
Colour Ring Report - Knot Special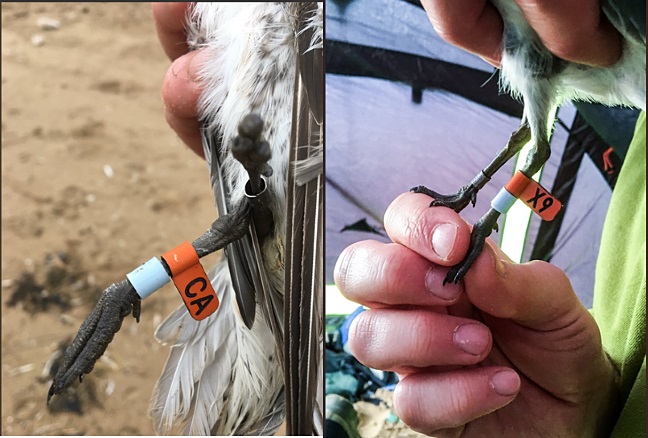 Knots being ringed at Altcar on September 22nd 2017, © Phil Woollen

September 22nd marked the anniversary of the first catch of Knots at Altcar (just south of Formby Point) which were ringed with an Orange flag over a pale blue ring (usually shortened to OflagP). 519 Knots were ringed, since then there have been a remarkable 2,440 readings of those Oflags including 1,199 readings here on the Dee estuary and north Wirral shore.
As the years progress the continuing reading of these rings will become more and more important in order to gain a better understanding of their movements including the different migration strategies of individual birds, as well as their longevity, breeding success, survival rates etc. In the meantime the year they have been studied so far has revealed some fascinating movements. We saw a definite movement of feeding birds with Formby/Crosby used almost exclusively in October but by December nearly all had moved to Thurstaston. By February and March far more birds were feeding at West Kirby but with Spring the birds returned to Formby/Crosby. There was then an obvious northward movement and birds were seen around Morecambe Bay, north-east England then both the Outer Hebrides and the Orkneys. In May 82 Oflagged Knot were recorded in south-west Iceland which is used as a staging site before they move on to Greenland and northern Canada to breed.
Many immature birds don't make this northward journey. Some years they spend the summer in the Ribble and Alt area but in 2018 they dispersed around the Irish Sea with Oflagged birds spotted at several locations on the east coast of Ireland as well as Walney Island by Morecambe Bay.
The adults had started returning by mid-July and we started seeing Oflagged birds at Formby and Crosby. There were rumours of a bad breeding season but that turned out to be false (see 'Have Arctic-breeding Waders had a poor Breeding Season?') with many juveniles arriving through August. Although we did see a few Knot on the Dee estuary/North Wirral we didn't see the first OfP until September 21st, and, up until the end of September, we've seen a pitiful three Oflagged birds compared to several hundreds over at Formby/Crosby! But small numbers of Knot over here in autumn is normal, and we won't see the big numbers until November. Other returning Oflagged Knots have turned up on the Waddensee, a major moulting site for this species, and at both Snettisham and Titchwell on the Wash.

Below is a history of four OfP Knots: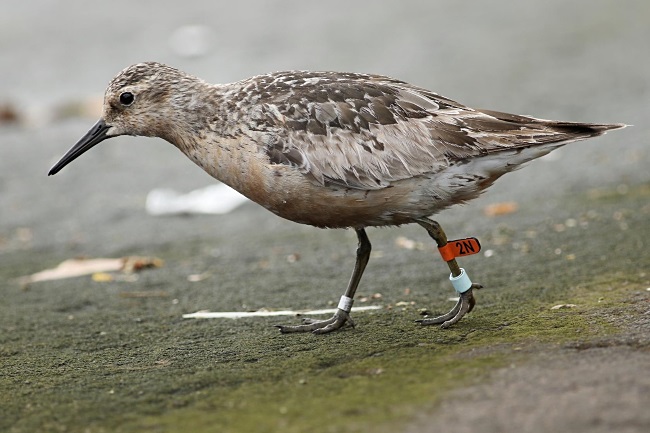 Knot Oflag '2N', Sao Miguel Azores, September 7th © Carlos Ribeiro
Orange flag (2N) over P
- ringed at Altcar on September 22nd 2017.
Recorded:
Crosby on October 13th 2017.
Thurstaston on December 12th 2017, January 23rd and 26th 2018.
West Kirby on February 21st, 27th and 28th.
Sao Miguel, Azores, on September 22nd 2018.
The record on the Azores was totally unexpected and is the first BTO ringed Knot recorded there. We can only speculate how it arrived on the Azores with the few Knot that find their way there normally being the Rufa sub-species which migrate between the Canadian Arctic and South America. I quote Knot expert Jim Wilson (who is also coordinating many of the colour ringed Knot projects, including OfPs) - "One scenario is that it had migrated South into the wrong flyway - west Atlantic Flyway. We have 3 records of knots staging in Iceland - turning up in the Autumn on the major staging sites at Mingan at the mouth of the St Lawrence, Canada. If it then corrected its course to the correct course, SW, then it would head out over the Atlantic and could land up in the Azores. Of course it could have simply got blown out over the Atlantic on its route between Greenland/Iceland and Europe."

Orange flag (ET) over P - ringed at Altcar on September 22nd 2017.
Recorded:
Thurstaston on December 21st 2017.
Skogarnes in SW Iceland between May 15th and 19th 2018.
Blithfield Reservoir, Staffordshire, on August 18th and 19th 2018.
Any inland Knot is unusual and this one is the first BTO ringed knot to be recorded in Staffordshire.

Orange flag (1M) over P - ringed at Altcar on September 22nd 2017.
Recorded:
Crosby on September 30th 2017.
Formby Point on October 6th 2017.
Thurstaston on December 22nd 2017.
Findhorn Bay, NE Scotland, on February 22nd 2018.
North Ronaldsay, Orkney, on May 1st 2018.
Crosby on September 4th 2018.
Caldy on September 21st 2018.
This was the first Oflagged Knot recorded on the Dee Estuary after the breeding season,

Orange flag (0Y) over P - ringed at Altcar on September 22nd 2017.
Recorded:
Caldy from September 28th to October 12th.
Leighton Moss from April 25th to May 1st.
Lambastadir, SW Iceland, on May 13th and 15th.
Formby Point from July 27th to August 3rd.
Crosby on August 6th.
Caldy on September 24th and 27th.
There were no records of this bird over this last winter, as it turned up at Leighton Moss in spring perhaps it spent the winter on Morecambe Bay.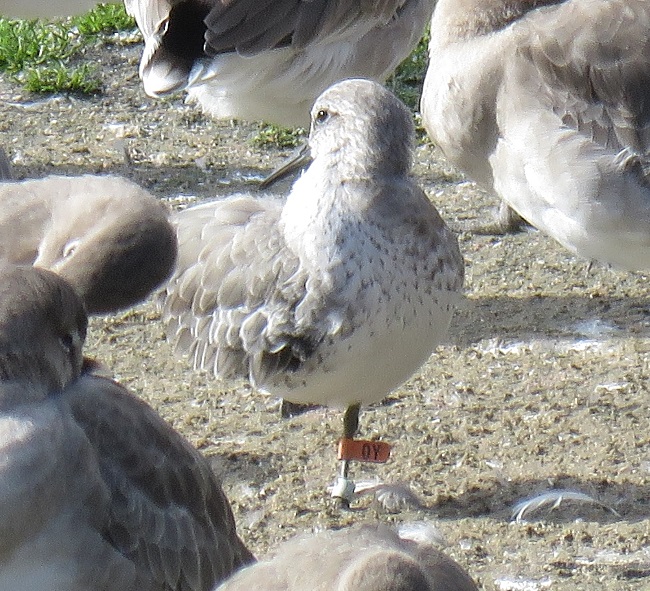 Knot Oflag 0Y', Caldy Wildfowl Collection, September 24th © Richard Smith
Many thanks to the 'Knot Oflag Team' and others for all the records, specially Jim Wilson, Steve Hinde, Peter Knight, Rose Maciewicz and Richard du Feu - and even more thanks to the ringing team which have now ringed around 1000 Knot at Altcar which will keep we Colour Ring enthusiasts busy for a few years!
Several other colour-ringed species were observed during September and these will be reported in the next newsletter.
Richard Smith.
Top of Page
September Bird News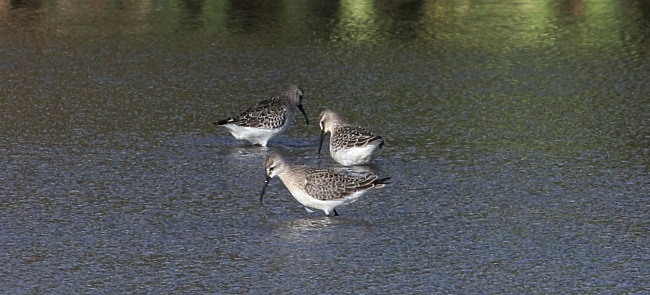 Curlew Sandpipers at Burton Mere Wetlands, September 23rd © Carole Killikelly


Although numbers of birds weren't big it was still a classic September with several Curlew Sandpipers recorded from the 9th onwards plus strong winds bringing in Leach's Petrels, Grey Phalaropes etc. Max count of Curlew Sandpipers at any one site was four, at Burton Mere Wetlands, Parkgate and Hoylake, with birds also seen at Heswall and Connah's Quay.
Single Leach's Petrels were observed at Hilbre and Hoylake earlier in the month but it was overnight gales on the night of the 20th, and during the 21st, that brought good numbers and they were seen from New Brighton to Hilbre, max count 15 at the latter site. They were still passing through the following day and Hilbre again had the highest count of seven. In addition at least a couple of Long-tailed Skuas were seen together withseveral Grey Phalaropes (up to 5?), Great Skuas, Arctic Skuas, Manx Shearwaters, a Sabine's Gull and a Roseate Tern.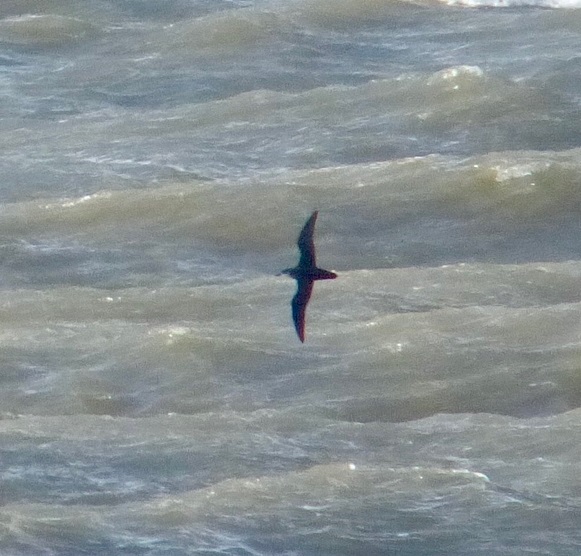 A juvenile Pallid Harrier was spotted over the marshes between Parkgate and Burton on the 4th and was recorded up to the 6th and again on the 16th and 17th. Two Spotted Crakes were at Shotton whilst the one at Burton Mere Wetlands showed really well from the Reception Hide. A Chough was an excellent record for Hilbre on the 16th.
Marsh Harriers were recorded daily, they seemed to have switched their roost site from Neston reedbed to Parkgate, the highest definite count was eight but I wouldn't be surprised that total numbers are already in double figures. Up to four Spoonbills and eight Great Egrets have been at Burton Mere Wetlands.
During glorious weather at the end of the month Pink-footed Geese were flying into the estuary by the hundreds, a fantastic sight for those up early enough to see it.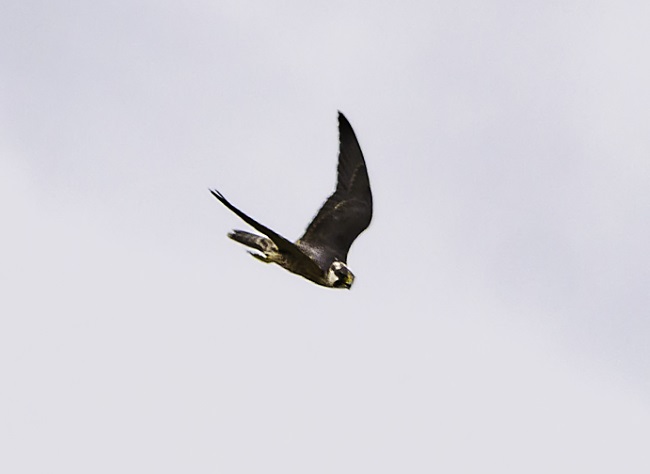 On September 10th this Peregrine was seen hunting overhead at Burton Mere Wetlands, resulting in everything taking off from the scrapes, see below! (both photos by Jeff Cohen)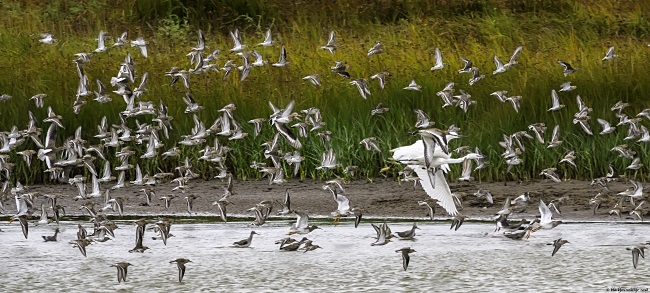 Many thanks go to Jeremy Bradshaw, Mark Woodhead, Charles Farnell, David Haigh, Steve Hinde, Matt Thomas, Chris Butterworth, David Leeming, Alan Hitchmough, Steve Williams, Derek Bates, Allan Conlin, Karen Leeming, Frank Burns, David Thompson, Richard Beckett, David Small, Steve Round, Tim Kinch, Elliot Montieth, Les Hall, Roy Lowry, Mal Seargant, Colin Schofield, Alan Irving, Mark Garner, Bill Owens, Damian Waters, Prudence Quayle, Mark Gibson, Phil Boardman, Jeff Cohen, Graham Connolly, Chris Wilding, Paul Lee, Carole Killikelly, Craig Bell, Dave Edwards, Richard Payne, Richard Steel, Richard Whitby, Richard Speechley, Sheila Saunders, Tim Wilcox, Adrian Morgan, Pam Livesly, Sue Roebuck, Gail Wilson, Charlie Lowe, Linda Platt, Manu Santa-Cruz, Gkyn Thursfield, Gill Lewis, Lyn Robinson, the
Lighthouse and Wirral Birding Blog
, the
Dee Estuary Wardens
and the
Hilbre Bird Observatory
for their sightings during September. All sightings are gratefully received.

Top of Page
What to expect in October
October is the month for visible migration, or Vis Mis as it's normally called by birders. To see what can, given the right conditions, be a spectacular movement of birds you need to be on the coast at first light. A light to moderate south-east wind is best, preferably with cloud cover and a slight mist with notable hot spots being Leasowe Lighthouse, Red Rocks, Hilbre, Thurstaston and Point of Ayr. What you are looking out for are mixed flocks of finches (usually mostly Chaffinches), Starlings, Redwings and Fieldfares among many other species which will be moving south along the coastline. For further details see the article '
Visible Migration
'.
Prolonged north-westerly gales, especially early in the month, will result in the usual Leach's Petrels, selection of Skuas, Grey Phalaropes and Sabine's Gulls - although numbers are likely to be smaller than during September gales. Both wader and wildfowl numbers will increase and on high tides these can be a fantastic sight.
On the marshes there will be plenty of Marsh Harriers and Short-eared Owls, hopefully both in double figures, with smaller numbers of Hen Harriers.
We are more or less guaranteed a good selection of rarities this month - recent years have included Melodious Warbler, Yellow-browed Warbler, Pectoral Sandpiper, Rose-coloured Starling, Olive-backed Pipit, Richard's Pipit, Slavonian Grebe.....................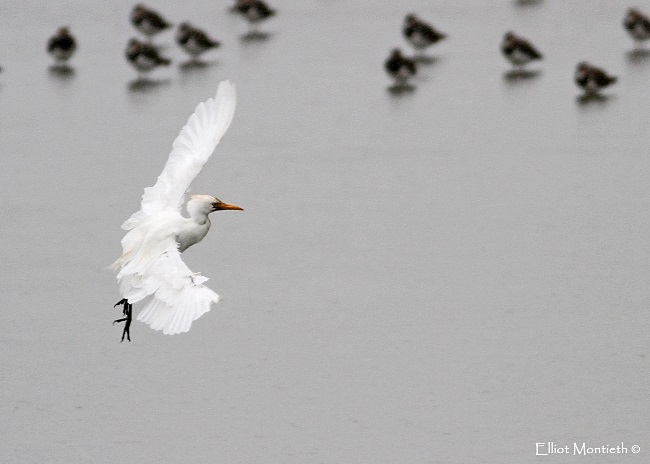 Great Egret at Burton Mere Wetlands, September 9th © Elliot Montieth
Top of Page
Forthcoming Events
October Highest Spring Tides (Liverpool)
Also see Tides page.
9th October, 12.00hrs (BST), 9.8m.
10th October, 12.39hrs (BST), 9.8m.
11th October, 13.16hrs (BST), 9.7m.
Forthcoming Events
Organised by the Wirral Ranger Service , Flintshire Countryside Service and the RSPB (Dee Estuary): All these events and walks have bird interest, even those not advertised specifically for birdwatching. No need to book for these events unless specified - please check below.
---
Sunday 14th October - RSPB Raptorwatch at Parkgate.
1pm-dusk, Price: Free.
Join us for a chance to see up to seven different birds of prey including peregrine and merlin, plus two types of owl that all make their home on the RSPB Dee Estuary nature reserve. With its panoramic views of the saltmarsh, Parkgate is one of the best places to watch for these birds hunting.
Stick around until dusk for a chance to see the graceful and endangered hen harriers flying into roost for the night on the marsh close to the Old Baths car park, and maybe a ghostly barn owl emerging to hunt. No booking required, come along any time between 1pm and sunset.
Dress appropriately for the weather and don't forget your binoculars! Public toilets and various pubs and cafes are situated close by along Parkgate promenade.
Saturday 27th and Sunday 28th October - WIRRAL WADER FESTIVAL
Events include high tide birdwatches at Hoylake and West Kirby on both days and a sunset walk to Hilbre on the Saturday. See details above -
click here
.
Sunday 11th November - Raptorwatch at Parkgate.
1pm-dusk, Price: Free.
Join us for a chance to see up to seven different birds of prey including peregrine and merlin, plus two types of owl that all make their home on the RSPB Dee Estuary nature reserve. With its panoramic views of the saltmarsh, Parkgate is one of the best places to watch for these birds hunting.
Stick around until dusk for a chance to see the graceful and endangered hen harriers flying into roost for the night on the marsh close to the Old Baths car park, and maybe a ghostly barn owl emerging to hunt. No booking required, come along any time between 1pm and sunset.
Dress appropriately for the weather and don't forget your binoculars! Public toilets and various pubs and cafes are situated close by along Parkgate promenade.