Ruddy Shelducks with their striking orange plumage and black and white wings are one of our most colourful ducks and always a pleasure to see. They are very much a rarity in these parts but during the past ten years sightings have become much more frequent. The three which spent most of June at Inner Marsh Farm got me thinking about the origin of these birds - just escapes, part of a feral population or genuine wild birds? I'm afraid we can't answer that, at least not without an extensive ringing campaign, but I thought it might at least clarify the situation if I reviewed the current status of this charismatic species both here, elsewhere in north-west Europe and in their stronghold in eastern Europe and Asia.

You have to go back to the summer of 1892 for the last large influx of Ruddy Shelduck in to this country accepted to be all wild birds, thought to be caused by a particularly dry spring in eastern Europe driving the birds westward(1). Apparently there were several flocks of up to 20 birds that year but no record of any reaching the Dee Estuary, the nearest being one shot on the Mersey Estuary(2). Reports of Ruddy Shelduck up to 1985 were sparse, to say the least. Between 1887 and 1984, a period of 98 years, they were recorded in only 16 years in the whole of Cheshire and Wirral(3). From 1985 onwards records have been far more numerous with birds seen in 15 out of 20 years. In 1985 there were three very wary birds at Frodsham, and one or two were seen in the following two years, including singles at Shotton and Thurstaston, and two at Heswall. None were present again until 1993 when there were five records of single birds, most on the Dee Estuary. 1994 was a big year for the species both across the country and locally. At least 12 were recorded at the same time in Cheshire and Wirral and eight at Gronant/ Point of Ayr in late July may well have been in addition to these. Over the next five years birds were reported as being virtually continuously present in our area. One or two were often seen with Common Shelduck at Heswall, and Inner Marsh Farm was also a favoured site. 1999 saw as many as six at the Point of Ayr, and a female was with four juveniles at Inner Marsh Farm on three dates between 7th August and 22nd September. Numbers then decreased with just singles reported during the next three years, until the three at Inner Marsh Farm on 30th May this year (2004).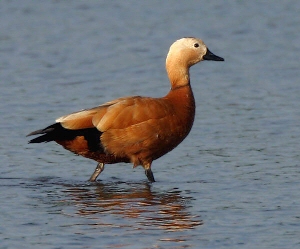 Steve Round © Ruddy Shelduck at Inner Marsh Farm, 6th June 2004.
Despite some evidence that the 1994 influx were genuine wild birds(3) the BOU ruled that this wasn't strong enough to rule out the possibility that they were all from the feral population in North-west Europe. Consequently they have been put in both category B (not recorded as genuine wild birds since 1949) and category D (there is reasonable doubt that they have ever occurred in the natural state) - presumably meaning since 1949. However there is some confusion here as the BOU when defining category C5 state the following - "C5. Vagrant naturalised species. Species from established naturalised populations abroad. e.g. some/all Ruddy Shelducks Tadorna ferruginea occurring in Britain"(4). So take your pick, category B, C or D! However, none of this rules out the possibility that a proportion of records must have been of true wild birds (category A!), as indeed they were deemed to have been prior to 1949. Between 1950 and 1994, and also in 1999, the majority of sightings locally were during late summer - traditionally the period of post-breeding dispersal for this species. Surely some of these must have been wild birds.
I've already mentioned the feral population in North-west Europe where most, may be all, our birds come from. These birds, presumably originating from escapes but perhaps with the addition of some wild birds, were first noticed in the Netherlands in the 1970's. But even in the early 1990's it was thought only 6 - 7 pairs were breeding here and similar numbers were seen in Belgium and Germany(5) . Since then the number of birds breeding in the Netherlands has risen to well over one hundred(6), with again equivalent increases in Germany and Belgium. So we are probably talking about a current population in Western Europe in the region of 500 birds, a number which is seems to be steadily increasing. Although still small in number these birds must account for the large majority of sightings in this country. However, can the influx of about 50 Ruddy Shelduck in to this country in 1994 be accounted for by the much smaller feral population present then? Well, the BOU obviously thought that they could be, but I wonder! Indeed, some experts think that the North-western European population itself cannot be explained just by escapes, and may indicate a true expansion of this species' range, especially in to Germany(7).
Wild Ruddy Shelduck range from a small population in north Africa, across to South-east Europe then to their stronghold in Asia. The total population is in the region of 200,000(8), with the largest numbers being seen in central Asia - Mongolia, NE China and Siberia. The numbers in Asia are thought to have been fairly stable during the past 100 years or so but those in Eastern Europe showed a marked decline in the 20th century. However recent counts have shown increases in Bulgaria and European Russia where conservation measures have been taken(9). The current population in North-west Africa is estimated to be 2-3,000 and those in the eastern Mediterranean and Black Sea regions about 20,000(8).
With the nearest significant population 1,400 miles away in Bulgaria, is it feasible that any of 'our' birds are from this wild stock, or are they all feral? This species is known to be nomadic and wide ranging, and there are good historical records of wild birds reaching as far as NW Europe, so it would be very surprising if some were not truly wild. But exactly how many and how frequently they turn up remains a mystery. An extensive ringing campaign might reveal the truth but until then there will always be a question mark over any sighting.
References:
1. Stanley Cramp, The Birds of the Western Paleartic, Volume 1, 1977 (also concise edition on CD-Rom).
2. Eric Hardy, The Birds of the Liverpool Area, 1941.
3. Tony Broome, Ruddy Shelducks in Cheshire and Wirral, Cheshire and Wirral Bird Report 1994.
4. BOU Records Committee Report 29, October 2002 (also see http://www.bou.org.uk/reccats.html).
5. Rolf Christensen, Introduced and Escaped Breeding Birds of Northern Europe, 8th version, 1997 (see http://www.c3.hu/~loxia/telepit.htm).
6. Teus Luijendijk, http://www.warbler.phytoconsult.nl/casarca.htm, 2003.
7. Anatasia Popovkina (Dept. of Vertebrate Zoology, Biological Faculty, Moscow State University), Ruddy Shelduck Project Results (http://ns.ss.msu.ru:8080/~nastya/tadorna/results.html).
8. Simon Delany and Derek Scott, Water Bird Population Estimates Third Edition, 2002 (Wetlands International).
9. Anatasia Popovkina (Dept. of Vertebrate Zoology, Biological Faculty, Moscow State University), Ruddy Shelduck Project Background (http://ns.ss.msu.ru:8080/~nastya/tadorna/backgr.html ).
Apart from the references mentioned I have also used data from the Cheshire (and Wirral) Bird Reports (1967 to 2002), Clwyd Bird Reports (various between 1989 and 2002) and also reports sent to me personally, usually by e-mail.
Richard Smith