An eventful month. We had an Osprey, Hoopoe and White Stork, and that was just one day! The Osprey in question was seen flying over the north west of Wirral heading north, as did another three days later, on the 10th. The Hoopoe was initially seen on the 4th by some people out catching moths in the sand dunes by Meols. It then disappeared until the 7th when it was seen in a small field next to the dunes where some excellent views were obtained. It then decided to move half a mile away across the railway and was last seen on the afternoon of the 10th.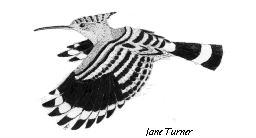 The White Stork was briefly at Inner Marsh Farm on the 7th, then it reappeared again the next day and stayed the night. It went off in the morning towards the middle of Cheshire where it remained until at least the end of the month.
The migration continued well during the month, both the first Common Whitethroat and Swift were earlier than the past few years (see table below).
| | | | | |
| --- | --- | --- | --- | --- |
| Species | 2004 | Location | 2003 | 2002 |
| White Wagtail | 14th March | West Kirby | 6th March | 16th March |
| Wheatear | 17th March | Hilbre | 9th March | 16th March |
| Sand Martin | 18th March | Point of Ayr | 8th March | 18th March |
| Swallow | 18th March | West Kirby | 12th March | 27th March |
| House Martin | 28th March | Parkgate | 15th March | 13th April |
| Willow Warbler | 31st March | Hoylake | 24th March | 29th March |
| Whitethroat | 15th April | Inner Marsh F. | 17th April | 19th April |
| Swift | 20th April | Inner Marsh F. | 24th April | 23rd April |
| Cuckoo | | | 4th May | 21st April |
It used to be said that the first Swifts weren't seen here until the 8th of May, but that is certainly not the case now as the ones in late April were not just one or two pathfinders but in good numbers - over 20 at Inner Marsh Farm and 30+ over the Hoylake Langfields were typical records. Chiffchaffs were particularly plentiful all month and by the end of the month Common Whitethroats seemed to be everywhere. There were some good movements of Wheatear during the month, 29 in one field near Leasowe Lighthouse on the 23rd was the highlight. Other birds on passage included 2,500 Meadow Pipits at Hilbre on the 12th and at least 200 White Wagtails on Hoylake beach on the 14th. Ring Ouzels trickled through, the first was on the 3rd, rather unexpectedly in a tree opposite a birder's garden in West Kirby, and in total six were observed.
| | |
| --- | --- |
| The first Common Tern was back at the Shotton colony on the 2nd but it wasn't until the 26th when 30 turned up that they looked like they were thinking of breeding - shrieking and displaying over the pools. Always later to arrive, 30 Little Terns were first seen off Hilbre on the 23rd, and on the 26th at Gronant. A single Black Tern was something more unexpected, one was at both Inner Marsh Farm and the Connah's Quay reserve, it stayed from the 12th to the 14th. 350 Sandwich Terns at Gronant was a good number for April. We saw a good passage of Little Gulls past Hilbre, the highest count being 125 on the 11th. This lovely small gull gathered at nearby Seaforth in their hundreds before departing overland on their way north east to the Baltic. | |
Brent Geese remained on Hilbre until the 8th when 16 were present. A peculiar looking duck caused some puzzlement at Inner Marsh Farm. This bird looks a bit like a drake Eider, but always consorts with Shelduck. It only turns up at this time of year, one theory has it that it is an Eider/ Shelduck hybrid but that seems unlikely. So it remains a puzzle.
There has been quite a good passage of Whimbrel, the highest count being of 44 at Heswall. A few hundred Black-tailed Godwit are still around the estuary, mainly at Connah's Quay and Inner Marsh Farm, looking striking in their summer plumage. As were the 10 Spotted Redshanks at Inner Marsh Farm at the end of the month. A couple of Avocets touched down during the month but unfortunately didn't stay. Other birds of note was a Wood Sandpiper over West Kirby, a Serin at Red Rocks and an early male Redstart on Hilbre Island.
What to expect in May.
Usually a very good month for rarities. The highlights for the past few years include Temminck's Stint, Gull-billed Tern, Red-backed Shrike, Montague's Harrier, Woodchat Shrike and White-throated Sparrow. Many of these will be what is called 'migration over-shoots', or put another way - birds which have lost their way during migration. The main spring migration is still underway in early May so look out for Ring Ouzels, Greenland Wheatear, Wood Warblers, Pied and Spotted Flycatchers and Yellow Wagtails - among many others!
Wader numbers will have dropped right off on the estuary but we can still get quite large flocks of long-distant migrants passing through on their way to the far north - Knot, Dunlin and Sanderling. Most years there is also a sizable summering flock of non-breeding Black-tailed Godwits, best seen at Inner Marsh Farm.
Our two tern colonies, Common Terns at Shotton and Little Terns at Gronant, will have started breeding by the end of the month. Sea watching is often very good in May with good numbers of Gannets, Manx Shearwater, Kittiwake and Common Scoter, and we may also catch a glimpse of the rare Roseate Tern among the many Common and Sandwich Terns.
Many thanks go to John Kirkland, Simon Roberts, Mark Feltham, Mike Hart, Leon Castell, Mark Turner, Mark Norton, David Burt, Steve Roberts, James Walsh, Lynne 'Dawpool', David small, Nigel Jarrett, Steve Wrigley, Nigel Troup, Bruce Atherton, Colin Jones, Steve Ainsworth, Carl Traill, Dave and Emma Kenyon, Bernard Machin, Matt Thomas, Mark Smith, Clive Ashton, Alan Patterson, John Eliot, Steve Round, Tanny Robinson, David Esther, Brian Grey, John Harrison, Allan Conlin, Mike Hart, David Harrington, Colin Wells, Stephen Williams, Chris Butterworth, Martyn Jaimeson, Shaun Williams, Keith Duckers, Mal Smerden, Jean Morgan, Dave Steer, Colin Schofield, Chris Tynan, Jeremy Bradshaw, Jane Turner, John Roberts, Kevin Smith, Chris Wilding, Karen Leeming Neil Friswell, Kamille Wallace, Michael Cocking, Chris Leighton, Gary Keating, Tracy Bennett, Jim Middleton and the Hilbre Bird Observatory for their sightings during April. All sightings are gratefully received.